A copywriter uses words to drive people to take the desired action. Over time, copywriting has become synonymous with selling a product or service, but making a purchase is just one of the calls to action (CTAs) that a copywriter might nudge readers towards.
Others might include making a donation, clicking on a link, subscribing to a newsletter, or hitting the share button.
If you are an aspiring copywriter who wants to get paid for your work, this article will help you identify prospective clients and connect with them. We will discuss who hires copywriters, where to find them, and how you can increase your visibility to this audience.
Let's dig in.
Who Hires Copywriters?
As an aspiring copywriter, you might be wondering who is likely to hire you for your writing services. The simple answer to that question is that almost any company that wants to market its product or services is a prospective client for a copywriter.
Companies including small start-ups and local businesses, medium-sized companies, and large multinationals like Coca-Cola and Nike all hire full-time or freelance copywriters. Large companies that have big budgets and run regular marketing campaigns often have a dedicated in-house team of copywriters.
Even so, they may still need to hire the services of freelancers from time to time, when the workload requires it or when they need someone with specialist skills.
Smaller companies with a limited marketing budget usually prefer to work exclusively with freelancers as this saves them money in the long run. I asked a few of my copywriter friends who they do work for, and these are just a few of the answers they gave me:
Real estate agencies
Web design companies
Charities and nonprofits
Digital marketing agencies
Solopreneurs and freelancers in other industries
Local businesses in their hometowns
SaaS companies
And many more!
Advertising, graphic design, and content marketing agencies are a major segment of who hires copywriters. Some have large in-house copywriting teams and will also hire freelancers during peak periods, while others work exclusively with freelancers to write content.
Narrowing Down Your Niche to Find Clients
Copywriting is a competitive market. How do you make yourself stand out? One of the best ways to do so is to narrow down your focus by specializing.
Companies hire copywriters to work on many different types of content marketing campaigns. Each has a specific style of writing and requires a different balance of skills. As you hone your craft and do your research, you're likely to land on the style that suits you best.
Some of the most common areas of specialism are:
Website content
Marketing campaigns
Ghostwriting (writing articles and content that will be published in someone else's name)
Blogging
Marketing emails
Writing email templates and follow-up email templates for outreach campaigns
Another advantage of focusing and specializing is that it allows you to search for relevant
clients. Depending on your interests and background, you might choose to specialize in a particular industry (aviation, fashion, SaaS, travel, and so on), a particular platform (such as Facebook, Instagram, or LinkedIn), or a specific content medium (like landing pages or marketing emails).
While it might seem that specializing narrows your market, it actually makes you more attractive to the kind of person who hires copywriters and will ultimately pay for your services.
Once you've decided on your niche, you can focus on your ideal client and learn how to conduct marketing efforts and a cold outreach strategy that will enable you to reach them.
Different Types of Copywriting Roles (and How to Find Them)
There are three main ways to work as a copywriter. They are:
Work full time as a staff copywriter at an agency
Join the marketing team at a company that hires full-time copywriters
Work as a freelance copywriter
Full-time jobs are more suited if you are looking for job security and a steady, predictable income. However, freelancing gives you the scope to pick and choose your own projects and to work for a wider variety of clients. This not only keeps things interesting and exciting for you, but also boosts your portfolio.
As an aspiring copywriter you first need to hone your skills, and freelancing is a great way to achieve this while working on different projects. You are developing your writing skills while gaining practice and experience in writing different types of content. You will also learn how to work to tight schedules and short deadlines.
Ultimately, you must decide which work format suits you best. There are pros and cons to each, and what works for one writer won't work for another.
Finding Entry-Level Gigs
Freelancers will form the majority of the U.S. workforce in the next seven years. A simple Google search for freelancing jobs will list hundreds of websites promising to connect you to clients.
Not all the sites are created equal, however – nor are all of them legitimate. The following platforms are great starting points for finding entry-level copywriting gigs:
Craigslist
Upwork
FWJ Daily Listings
Problogger Job Board
The copywriting jobs you get through these sites are likely to be entry-level, and hence they won't pay as much as you might like. But they will give you exposure to writing across a wide range of topics, and allow you to build a portfolio while getting paid.
These jobs will also improve your research and writing skills, so consider them a fair price of entry to the freelancing world.
While the rates will vary from job to job, as a benchmark, you can expect to make $15 – $20 per hour as a beginner. The rates you can command will increase with time and experience. Remember that jobs on these boards are very competitive, so you're unlikely to land 35-40 hours of work per week immediately. So plan accordingly.
If you're hoping to focus more on writing and less on job-hunting, check out SolidGigs — they send you the best freelance writing gigs so you can spend more time working.
Pro tip: Make sure you post samples of your writing on your profile. Most boards have privacy settings so you can allow only prospective clients to view your writing samples.
These sites will allow you to dip your toes into freelancing and empower you to take your first baby steps towards your entrepreneurial goals.
Working with Local Businesses
Don't forget about smaller local businesses, too. People like to work with others local to them, so check if there are any businesses in your town, city, or region who hires copywriters.
Start with businesses you frequent. If you spot an opportunity to improve the business's online presence or marketing collaterals, you can consider pitching your services to help them.
The fact that you know and love their products and services will give you an edge. You could even offer a 10% "local business discount" to sweeten the deal, if you wish.
Make a list of topics that you feel comfortable writing about, then identify local businesses that fit the topics on this list. A lot of these businesses will be small to medium sized, and hence your ability to connect with the owner (or other decision-maker who hires copywriters and freelancers) will be high.
Where to Find Higher Paying and More Prestigious Gigs
"How do I find clients offering high paying gigs?"
This is perhaps the most frequently asked question within the freelance community. If you've been finding work through freelancing boards and are now ready to step up your game and start landing higher paying jobs, read on.
The absolute best way to connect with new clients is through referrals and networking. Is there someone you've worked for who can recommend you to others in their network? Joining a networking group (either in person or online) in your city can be time well spent, too. I know one copywriter who gets around 75% of their work in this way.
For now, let's assume you don't have a client base to build your referral network. How do you get your first prestigious client? Let's look at two strategies that can help you.
The Power of Blogging and Social Media
Blogging is one of the most powerful marketing tools you can use to promote your brand (you). Start a blog on your website, if you haven't already, and promote it through your social media channels.
LinkedIn and Twitter are particularly useful channels for starting conversations and grabbing the attention of prospective clients.
Putting your best content on your blog acts as a client magnet to attract relevant leads. Not only does it improve your SEO performance and allow people to find you through search engines, it also showcases your writing ability.
Sharing what you know with a relevant and interested audience is your first step towards finding a suitable client. Remember that blogging isn't an overnight strategy, though, so the sooner you get started the better.
Use the Remora Model
Remora is a small fish that attaches itself to larger fishes like sharks and whales. What does this have to do with marketing? If you do it right, you can piggyback on others' existing audiences for a mutually beneficial relationship.
There's a right and a wrong way to do this, of course. You must ensure that you can provide at least as much benefit as you take.
Team up with businesses that service your potential clients, but do not offer directly conflicting services. For example, you might partner with a local web developer and offer to provide content creation services for their clients.
You might offer a small fee to the developer in exchange for the referral, or simply refer them to people looking for web development services in return. This is just one example. The key is to ensure the arrangement is a win-win for you both – and for your clients.
When other, respected service providers vouch for you, you'll be surprised how quickly your client base grows and they'll keep recommending you to who hires copywriters.
Getting a Copywriting Job with a Company
Once you understand who hires copywriters and which area you want to work in, you need to work to get noticed by your target audience. If you want to work for a company, that means getting in front of the appropriate decision-makers.
With repeated exposure to your name and your work, you will create and sustain this visibility. When the time comes to hire a full-time or freelance writer or when they need to make a referral, your name will be front and center.
Here are the initial steps to identify the contact persons at your dream companies:
Make a target list of the companies you want to work with and call them (or look online) to find out the names of the editors and content managers.
Search for them on social media platforms like LinkedIn and Twitter and follow them.
Look at the content they share on these platforms and identify the sources they cite. Subscribe to those sources.
Once you have identified your target audience, spend some time interacting with them on these platforms. Hint: the best way to start a conversation is to ask questions. But make sure you're providing value in return and not just taking up their valuable time.
Networking on social media will bring positive gains as long as your focus is on building a relationship. Don't start pitching as soon as you make contact with someone! Spend at least a month building the relationship before you even think about asking them to hire or refer you.
Your Skills and Portfolio
Language and grammar form the foundation of your writing skills. A good vocabulary, correct punctuation and spelling, and a grasp of grammar and sentence structure are the starting points. The quality of your words directly impacts the credibility of the product and the brand (as well as your ability to get paid to write).
Luckily, there are plenty of grammar checker tools such as Writer, Grammarly, and Grammarly alternatives like the Hemmingway Editor. These tools can help polish your writing and check for common errors. Becoming a writer takes practice and persistence.
Great copywriting consists primarily of short, crisp sentences without redundancies or padding. In simple terms, remove the fluff and get to the point. Let's look at an example to highlight this point.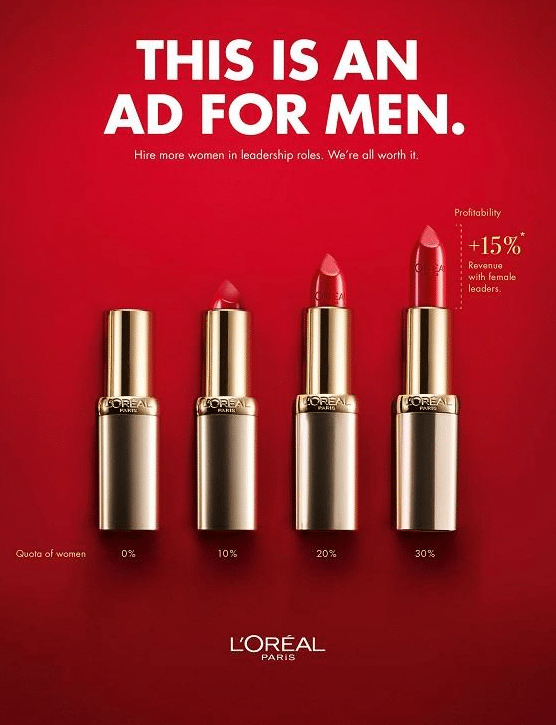 This ad from L'Oreal contains very few words – just three sentences plus a couple of stats.
But in those few words it subverts expectations (by declaring "this is an ad for men" on a picture of a product typically associated with women), grabs your attention, creates a powerful call to action ("hire more women in leadership roles"), and plays on L'Oreal's world-famous slogan "because I'm worth it".
To achieve conversions, your headline must first grab the reader's attention. Captivating headlines are short, crisp, and often contain numbers. As illustrated below, content with compelling headlines achieves the most shares: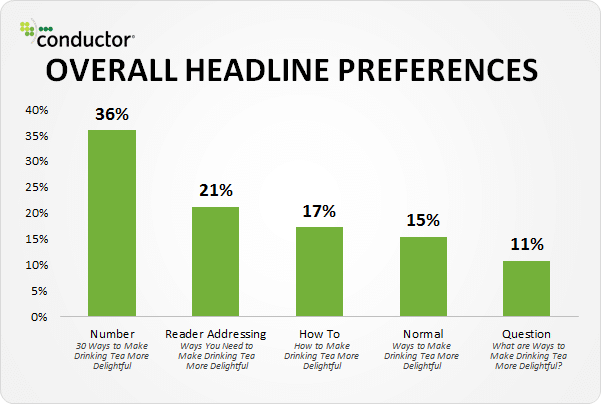 Source: Moz
Great copywriters often spend hours or days on the perfect, high-converting headline. (By the way: this is why you should never charge by the word as an advertising copywriter!)
Once you have completed your internship, you need to kick start marketing your brand in earnest. Pick what you feel were the top 5 pieces of content that you wrote in the first three months, and hire a professional editor to proofread and edit them if necessary.
These will form the first building blocks of your portfolio. If you do not yet have a portfolio website, it's time to create one.
Start writing to sell your brand. Pick five topics and styles of writing that you feel most comfortable with, and write pieces of content based on them. If you can afford it, get an editor or more experienced copywriter to look over them and give you feedback.
Notice how the editor tweaks your copy, and use that feedback to make every piece you write better than the last. These pieces also go into your portfolio.
How Much Do Copywriters Make?
Your earnings as a copywriter depend on two factors: your perceived value to the market and how you advertise your services to clients.
It's very hard to put an exact figure on how much copywriters can earn, as it varies hugely based on niche, location, and experience.
Someone just starting out might earn around $2,500 per month, while a well-established and reputed freelance copywriter can eventually make six figures per year. The best way to look at your earnings is to draw up a timeline and modulate your action plan accordingly.
It is fair to say that entry-level writers may struggle for sustainability, and in the first three months, you should look at your copywriting income as a secondary income. According to Venngage, freelancers make less than $0.25 per word on average: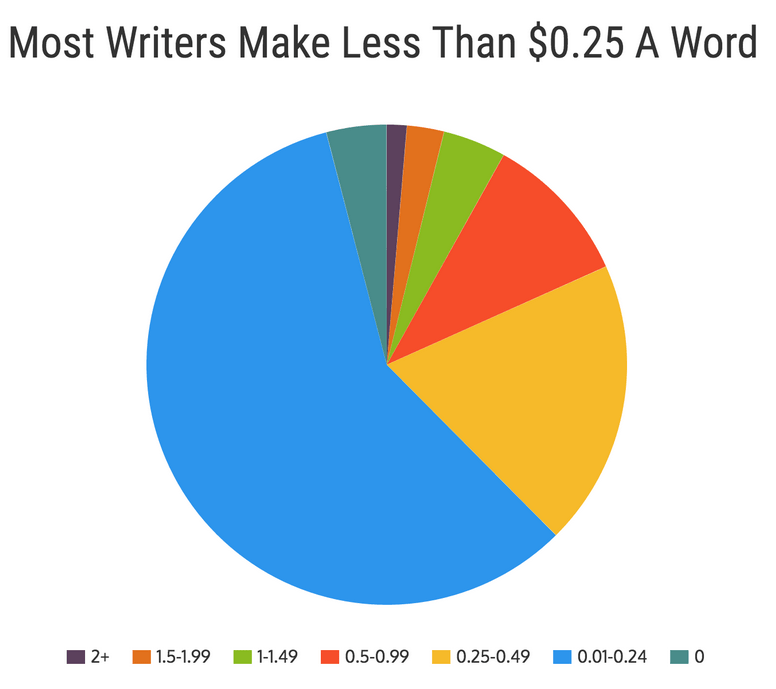 Freelancing platforms are a good starting point but by the end of 12 months, most of your work should be with direct clients, and the freelancing platforms should only fill in the gaps during slow times. By the end of the first year, you could be making $40,000 – $60,000 per year… or more!
It's not easy to become an accomplished copywriter and to find the clients who will pay you generously for your services. But with the right skills, practice and persistence, the end result can be highly rewarding.
In Conclusion
If you are passionate about writing and have a flair for communicating with words then copywriting is an avenue where you can earn a livelihood doing what you enjoy the most.
Good copywriters are always in demand at companies that advertise and market their products and services. Companies in the advertising and content marketing domain are another segment who hires copywriters.
Working full-time at these companies provides job security with a steady income. However, the potential earnings as a freelance writer are greater in the medium to long term.
To become a sought after copywriter you need to hone your skills and focus on understanding consumer behavior and improving your language and writing skills. Good luck on your journey!
The post Who Hires Copywriters? Here's Where to Find Them appeared first on Millo.co.
Read more: millo.co