For a financial services representative, video communication can be pivotal in establishing trust while meeting clients' demands for a more personalized digital experience.
Balancing Trust with Innovation
Financial services (often called "FinServ") remains an industry built on relationships and trust. Money can be a tough subject, and FinServ representatives, commonly referred to as "trusted advisors," have an obligation to act in the best interests of their clients.
How do people assess whether someone is acting in their best interests? Vanguard reported the components of trust break down into 17% functional, 53% emotional, and 30% ethical. Wealth management, investment banking, insurance, and banking rely heavily on relationships when conducting business. This explains why a large percentage of meetings happen in-person, in order to develop an emotional connection and increase trust.
In recent years, FinServ organizations have started to embrace digital transformation, providing tools and platforms (such as digital banking and support chat) that enable customers to perform finance management tasks more efficiently while catering to a younger demographic.
Digital transformation can have the unintended consequence of inhibiting the relationship customers develop with institutions and advisors, losing the opportunity to forge an emotional connection. In fact, it has been estimated by the Financial Brand that 94% of firms aren't solving the need for personalization in their digital efforts.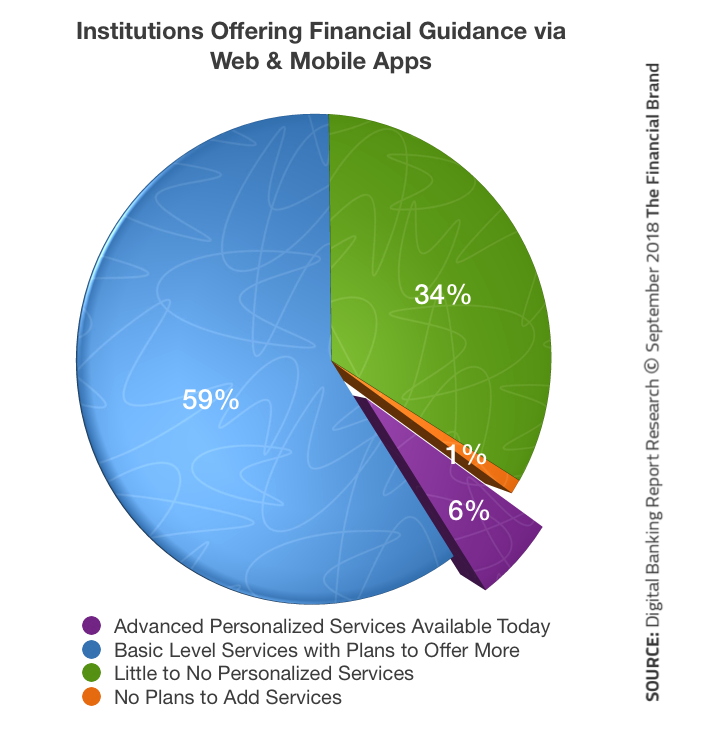 Video can help bridge the gap, bringing the human element back to trusted advisors' work in the midst of digital transformation. In fact, it's already in play across many different areas of the FinServ Industry, such as wealth management, insurance, and banking.
We've broken the benefits down into three types—customer satisfaction, operating expense savings, and increased revenue— and provided examples of how leading organizations are achieving gains in those areas.
Video for FinServ Education and Advisory
Using video for education can improve customer satisfaction through increased awareness in investment strategy and trust in their advisor.
In wealth management, Spectrum Group reported that 61% of ultra-high-net-worth clients were open to using video chat with their financial advisors, eliminating the inconvenience of travel but still developing personal relationships while receiving advice on their financial situations. Edward Jones has enabled clients to video conference with their financial advisors, making meetings more convenient. In addition, wealth managers have the opportunity to educate clients by emailing short videos, combining both audio and visual components to simplify complex investment ideas.
Besides one-to-one video, creating short videos to explain your product, onboard customers, troubleshoot common issues, and communicate product releases is a more proactive approach to customer support. Who wants to spend time reading product pamphlets or a list of features when a video is available? YouTube is one of the main places, if not the first, people look for "how to" information on a new product.
Video for FinServ Marketing
Financial technology (FinTech) companies are catering to younger generations by not only offering innovative solutions, but also connecting with them on their preferred communication channels like video, social, and chat.
This puts pressure on legacy wealth managers to keep up with the changing buyer. Using video to introduce new products and create brand awareness can have a material impact beyond millennial lead gen. 1,200% more shares are generated by social videos than text and images combined, creating an opportunity to connect with a much broader audience. WealthSimple demonstrates this through powerful storytelling, with multiple videos generating over 1MM views on YouTube alone.
Video for FinServ Sales
Within wealth management, Qualtrics Financial Customer Experience Report found that 47% of clients chose their financial advisor because of trust, higher than any other reason. In addition, 94% of clients who had "high trust" in their advisors were likely to provide referrals, the largest source of new business. Meanwhile, Deloitte reported that an increasing percentage of insurance buyers prefer digital channels for researching and managing policies, however, 68% still prefer to speak to an agent before purchase.
Since there are over 300,000 wealth advisors and 1.1 million insurance agents, brokers, and service employees in the U.S. alone, leveraging video in the prospecting lifecycle will not only differentiate the offering but also reassure prospects that they are engaging with a reputable advisor or insurance provider. Through one-to-one personalized sales videos and video chat, employees can create trust and a level of comfort while providing an easily accessible alternative to in-person meetings.
Video for Insurance Claims Management
Claims management, is seeing an innovation resurgence as insurance providers increasingly understand the impact better customer experiences have on customer satisfaction and retention.
Taking a once-frustrating process, mobile applications that allow for photo and video claim management have increased transparency while also significantly improving operational efficiencies. Allstate saw estimates processed by live streaming video increase from 0% in 2016 to 50% in 2017 due to the introduction of their Virtual Assist Application.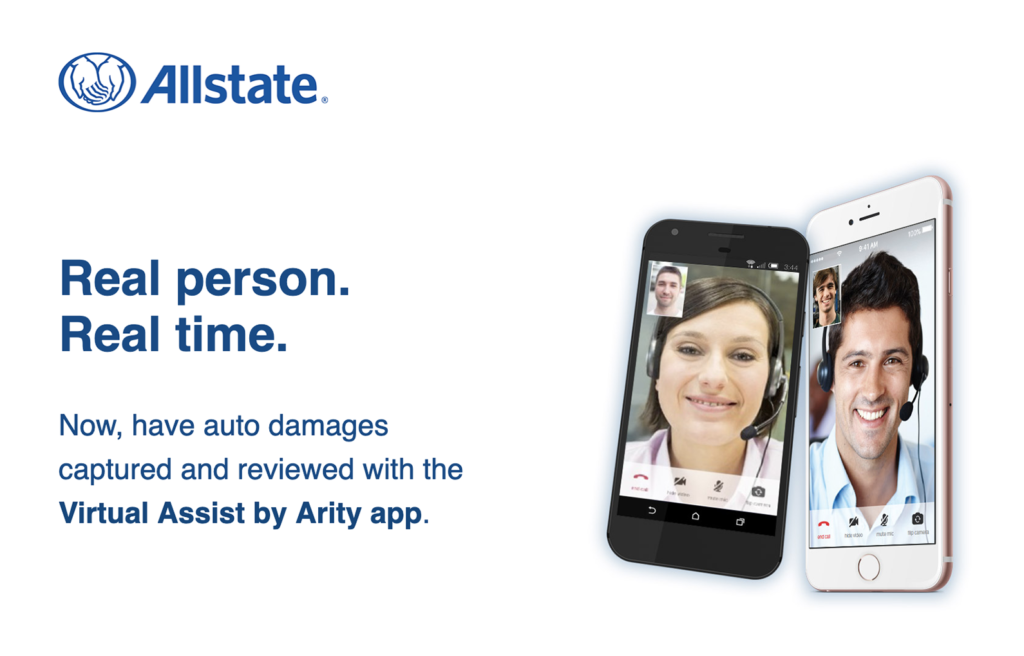 Video for Virtual Banking
PWC's Digital Banking Consumer Survey revealed that 46% of consumers use only digital channels today and 82% of millennials use mobile banking. The robustness of online banking platforms has driven the rapid adoption of these solutions, which is leading to a significant drop in retail visits.
This shift has also impacted brand loyalty. Genesys found that 57% of millennials will change their bank for a better technology platform. Banks need to continue embracing digital banking while finding ways to directly engage with consumers—video is an easy way to do this. Bank of America has started launching robo-branches, with only an ATM and a video conference meeting room. This reduces the branch footprint but also provides better and more personalized service as customers connect with product specialist over video.
Video is convenient and offers deep personal connections, which is why FinServ organizations continue to explore innovative ways to integrate video into their business. In fact, strong value propositions and high return on investment (ROI) led 82% of businesses to report greater investment in video in 2018. So why haven't FinServ firms adopted video more aggressively? That gap in adoption has remained due to:
Increasing regulations
Increasing penalties due to non-compliance (regulators have imposed $342 billion in fines on banks for misconduct since 2009)
Lack of compliance controls to cost-effectively review and supervise video content.
Compliance Challenges for Video Adoption
The FinServ industry has a fundamental need for video, but hindering this adoption has been the increased number of regulations designed to protect investors and to monitor financial institutions along with the business impact that non-compliant behavior can have on an organization in the form of penalties, business disruption, and lost brand equity.
In addition, the general lack of video-capable analysis and workflow tools creates a staggering review burden on compliance teams. Today, compliance departments have to review playbacks of recordings and make tedious comparisons with transcripts using unintuitive commenting and workflow interfaces.
Regulated organizations that are planning video programs can take the following measures to facilitate better internal collaboration and program success:
Engage compliance, legal, and privacy teams early in the process to define scope, objectives, and goals
Understand compliance requirements and pain points as well as evaluate vendors against those requirements
Keep it collaborative by making compliance a partner in the process
Advances made in artificial intelligence (AI) and machine learning (ML) enable compliance teams to be more efficient and effective, making it easier to meet retention and supervision regulations of digital content. Compliance teams can operate as a business enabler, supporting the business units as they adopt impactful video solutions.
Tools to Address Video Compliance Concerns
To directly address FinServ organizations' specific compliance needs, Theta Lake, a 2019 Gartner Cool Vendor, provides an AI-based compliance suite to help firms manage the costs and complexity of dealing with regulations. Specifically, helping FinServ companies more efficiently and effectively retain and review marketing videos, personalized sales videos, and video conferences through:
AI and deep learning-based policies that drive automatic policy detection of corporate compliance, conduct, and regulatory risks (both audio and visual)
Unified, visual, workflow for reviewing and supervising video communication
Compliant long-term archiving and comprehensive search and classification tools for all aspects of video communication, including people search, audio with text, images, and shared document content
Enterprise reporting for auditors and demonstrable ROI
Adapting for the Future
Video bridges a material gap between enabling customers to realize the benefits of digital transformation and maintaining a personal connection, even as in-person visits continue to decline. The number of video use cases in FinServ grows substantially each year and, with new compliance support solutions, it's only a matter of time before video becomes a staple within financial services.
To learn more about how Theta Lake and Vidyard's integration enables financial services organizations to personalize digital outreach through compliant personalized sales videos, contact your Vidyard sales rep or visit Theta Lake's integration page.
The post Video for Financial Services: Banking and Beyond appeared first on Vidyard.
Read more: vidyard.com