Over the past decade, the game of football we all love has changed quite radically off the pitch. We have attended and presented at a number of County FA workshops and one that stood out for us was Hampshire FA's "Marketing & PR" workshop. The clubs in attendance came away with some great ideas as well as an excellent understanding of marketing basics.
The marketing of a grassroots football club can be a very daunting task for club officials, the majority of which are of course volunteers. The average grassroots club is run and marketed like a business due to the vast number of offline and particularly online requirements of the "modern game". Just like a business, you have competitors, but rather than competing for sales you are competing for players, volunteers and sponsorship.
Marketing your club does not have to be a minefield, if you stick to the basics you'll raise your profile locally, interact with the community, build a brand for people to get behind and present your club as professional & serious about the game. So where should you begin?
Offline
If you were a new football club, from a marketing perspective the first thing you would need to create is an identity, your brand so to speak. The logical place to start even if an established club is the badge; the design needs to be strong, clear and use minimum colours/fonts. If your existing badge fills these criteria then you're off to a great start.

You will need a digital copy of your badge, ideally in a few different formats; a jpeg for use online (website/social media/email footer etc.) as well as a vector format (usually an EPS file), which just means it will be scalable without losing any quality when printed. Many clubs will, of course, have a rich heritage and a badge that has stood the test of time that simply needs a digital copy created. If you are not lucky enough to have a graphic designer at the club then fear not, you don't have to source an expensive design agency, there are plenty of freelance graphic designers out there that will be able to offer great design at a fraction of the cost. Once you have sourced a good graphic designer you will find their services invaluable in creating a range of collateral going forwards.
*Tip* – Social media channels like Facebook and Twitter can be a great place to source a freelance graphic designer.
*Tip* – As part of the badge creation process you or your designer will pick the main font to be used. This font should then be utilised for headlines/titles in future documents, but you will also want to pick a secondary font for paragraph text (body copy). This font should be easily legible, and usually, a serif (i.e. Times Roman) or sans serif (i.e. Helvetica) font is chosen for this purpose.
Once you have a strong badge this forms the basis of your identity, from this point on every piece of collateral you print or publish be it posters, match day programmes, club forms, banners for events, clothing etc. should all utilise the same:
Badge
Fonts
Colour Scheme
Design Style
This creates brand consistency and a very professional image, as time goes by your club will become instantly recognisable to those familiar with the brand across your community.
*Tip* – If you want to keep graphic design costs at a minimum get yourself a copy of Adobe Illustrator and ask your graphic designer to provide you with original artwork source files for everything they create for the club. The learning curve is not very steep to simply edit these documents for re-use in the future.
Online
When it comes to your club online, the offline rules still apply, you need to ensure your brand is maintained. There is a huge selection of social media platforms that you can utilise to showcase your football club online, but the end game should always be to drive traffic through your website making it the centre of all information and a resource that keeps visitors returning time and again. Your website should adhere to the following for optimal user experience:
Easy to use
Clean, uncluttered design
On page options to easily share on social media
All information readily available within 2 clicks
On its own domain name i.e. www.yourclubname.co.uk
Fully Responsive (the website layout should adapt to the device it's being accessed on for optimal viewing experience)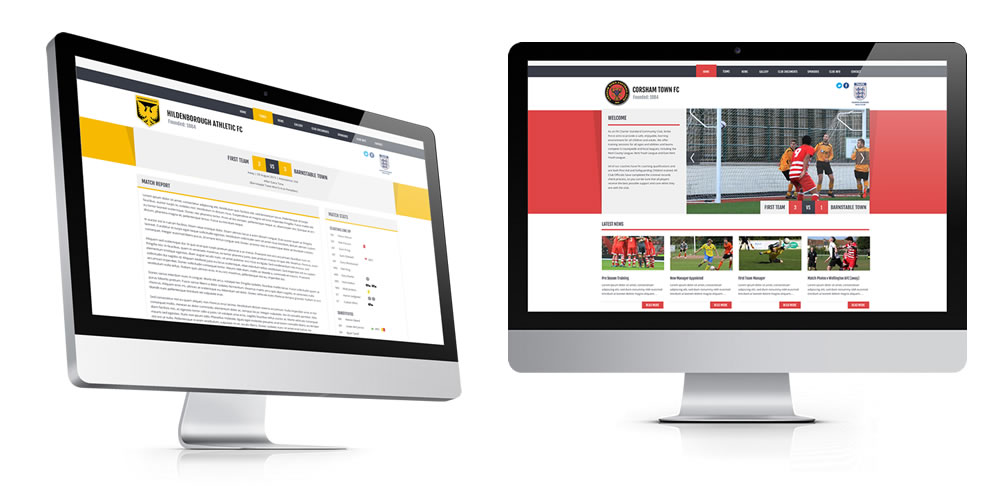 Your website is your online shop window for potential new players, volunteers and sponsorship. Think about the last time you were looking for a product to purchase online, how many websites did you instantly disregard just because of the way they looked? You have just a few seconds to impress a new visitor enough to keep them on your website and delve beyond your homepage.
Of course, it's not just new visitors you need to keep happy, your existing members are going to account for the majority of traffic so you need to ensure the most important information is readily available at their fingertips; fixtures, news, events, match reports, club documents etc. An up to date website can vastly reduce the need for lots of emails and phone calls as your members get used to the website as the first port of call for the latest information.
*Tip* – Website content can be time consuming to maintain but it's what keeps visitors engaged with you online. Choose a website provider that allows you to split the workload between multiple club officials. 10 users each looking after a different team at the club is better than 1 single administrator which will likely cause a bottleneck of information waiting to be published.
*Tip* – Where possible maintain and publish match reports and player statistics on your website. Media outlets such as local newspapers can and will utilise this information. Pick up the phone and tell them it's there, match reports featured in local papers or on their websites will only raise your club profile.
*Tip* – Share your content. Every time you add a new event, match report, news article or video to your website, publish it on your social media pages (Facebook and Twitter are the most used within grass roots football). It will drive traffic to your website and you will likely pick up some new followers along the way.
In conclusion
In this article, we have covered the basics of marketing your football club and hopefully given you an insight into best practice. It doesn't have to be rocket science, get the basics right and any club can achieve an impressive reach across both online and offline media. Over the coming months, we will cover some of the key marketing tools at your disposal in more detail starting with Social Media in our next article.
The original article comes from our partners My Club Pro
The post An Introduction To Marketing Your Football Club appeared first on Discount Football Kits | Blog.
Read more: discountfootballkits.com