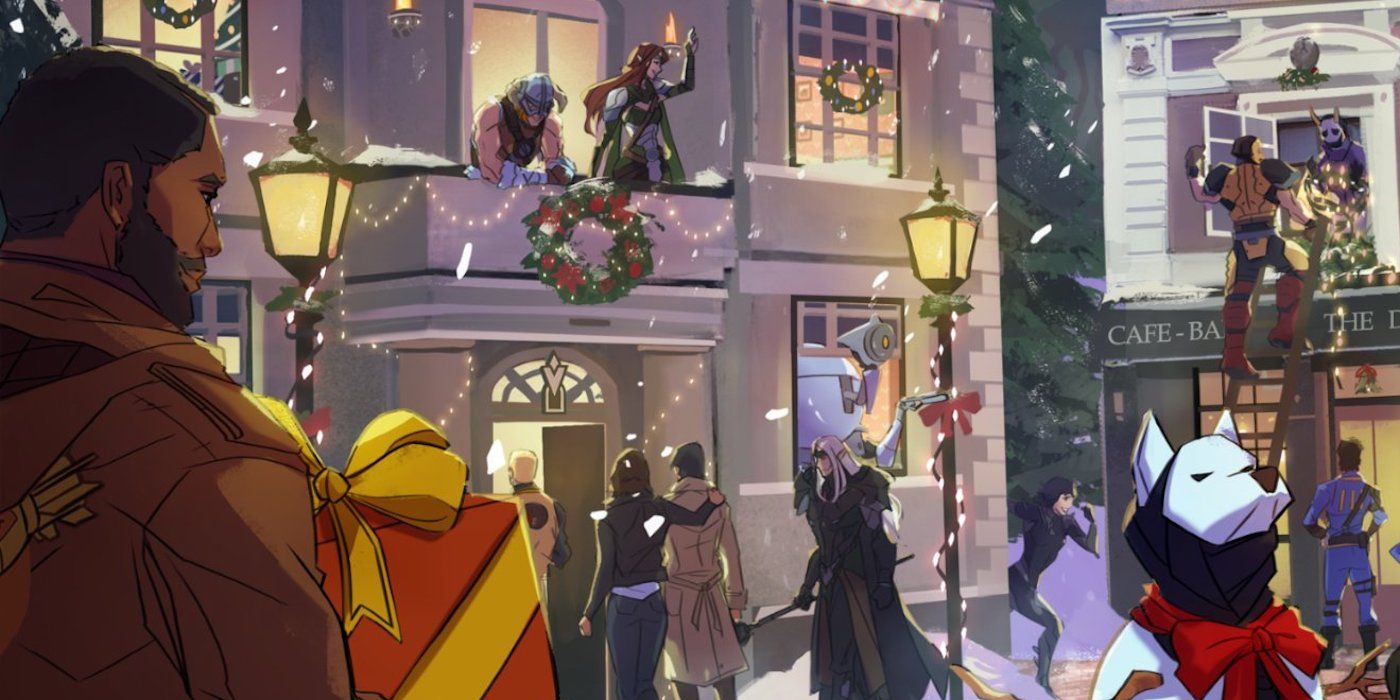 A piece of adorable Bethesda crossover art brings together characters from The Elder Scrolls V: Skyrim, the Fallout series, DOOM and more to celebrate the holiday season. The massive game publisher is responsible for releasing a number of wildly acclaimed games over the last few decades, and its in-house development team has created iconic role-play experiences in the Elder Scrolls and Fallout franchises. Bethesda is no stranger to celebrating the holidays, with an upcoming charity event casting Bethesda Marketing VP Pete Hines as Jacob Marley in a digital event within Fallout 76.
Bethesda is responsible for publishing and developing some of the gaming industry's biggest titles, making it a very recognizable studio. The hardcore first-person shooter series DOOM, Arkane Studios' supernatural assassin simulator Dishonored, and the historical fiction saga Wolfenstein are only a short look at the publisher's long list of beloved projects. Meanwhile, Bethesda Game Studios' creations such as Skyrim and Fallout 4 push the boundaries of open-world game design and become instant classics for many gamers. However, Bethesda always maintains a signature sense of self-awareness and humor when interacting with fans. For example, game director Todd Howard recently criticized ladders due to the studio's apparent inability to design simple and easy-to-climb ladders for their massive AAA games.
Related: Fallout 5 Plans Already Being Made At Bethesda, But Release Is Far Away
In a colorful and cozy piece of crossover artwork, Bethesda brings many of its franchises and characters together in a winter wonderland celebration in a Twitter post. Deathloop protagonists Colt and Julianna both come bearing gifts, perhaps intended for each other. The Elder Scrolls' chaotic deity Sheogorath stands merrily under a streetlight, while Dishonored's young Lady Emily builds a Deathloop-inspired snowman. A Fallout Vault Dweller and Vault Boy stand close to DOOM's unstoppable Doom Slayer, who seems unusually cheery, while Skyrim's Dovahkiin relaxes outside of a fantastic Bethesda holiday party. Plenty more cameos are sprinkled throughout the lovely artwork, paying tribute to Bethesda's greatest hits and most recent releases.
While Bethesda has published and developed quite an impressive list of game projects, even more exciting releases await in the company's future. Following up 2018's Fallout 76, the developer's next major release will be a 2022 sci-fi role-playing game titled Starfield. The ambitious new title will take players to a wholly original cosmic setting, allowing them to fully customize their character and explore an expansive galaxy of planets. Following the release of Starfield, Bethesda has already announced that The Elder Scrolls VI will continue the fantasy saga's epic storyline, though specific details about the franchise's sixth installment are unclear. Todd Howard has even confirmed that Fallout 5 has been roughly conceptualized, though the post-apocalyptic adventure is undoubtedly many years away.
Just in time for the holidays, Bethesda has combined its most beloved characters in a heartwarming celebration of winter cheer. From Skyrim's iconic Dovahkiin to Deathloop's rival assassins Colt and Julianna, a wide range of different projects are represented in the colorful artwork. While Bethesda has already conquered the gaming industry with games like DOOM and Fallout, even more exciting titles await gamers in 2022.
Next: Elder Scrolls 6's Story Can Make Player Choice Actually Matter
Source: Bethesda/Twitter
Read more: screenrant.com