Amisha Ghandi, SVP Marketing at Tipalti takes on customer experience.
Listen to the podcast:
Or catch us on Apple Podcasts, Spotify, or YouTube.
Watch the recording:
Want to hear more from renowned marketing leaders on customer experience? Catch all episodes here.
Episode Summary
Host, Jennifer Gutman, and her guest, Amisha Ghandi, SVP Marketing of Tipalti, reveal what it means to meet customers where they are, and do it well. In this episode, you'll be at the edge of your seat as Amisha unravels how to build the foundation for strong customer experiences. Her best tip? Find all the places where there are gaps in growth, and use those holes as smart ways to meet your customers where they are.
Amisha isn't afraid to tackle the challenges she's encountered as a marketing leader building out stellar customer experiences, and you'll certainly walk away with a few ideas on how to provide a second-to-none experience for your customers.
Meet Amisha Gandhi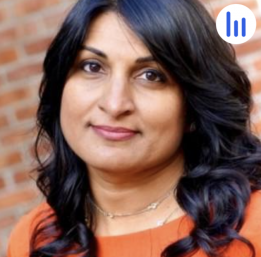 Amisha is a groundbreaking innovator with deep marketing and communications expertise.
Currently serving as the Senior Vice President of Marketing at Tipalti, an accounting software financial technology business that provides accounts payable, procurement, and payments automation software for businesses, she is driven by scalable opportunities to do what has never been done before.
Amisha is focused on business results and analytics, with an impressive track record including– Storytelling for top global brands, launching new products/categories, C-Level thought leadership, digital content marketing, demand-gen, sponsorships and partner relations, social media programs, leading global and regional cross-functional teams, and corporate communications.
Recently, Amisha was recognized in PR Week's Women to Watch 2020, in the Top 50 Influencer Marketer by Talking Influence and as a Top Digital Marketer by LinkedIn.
Stay in the Loop
Radically Transparent is a podcast geared towards the modern-day B2B marketer. Host Jennifer Gutman and her guests are a mixture of renowned marketing and sales leaders from B2B marketing organizations around the globe.
Each episode shines a light on the inner workings of B2B leadership– including what keeps successful CEOs, CMOs, VPs, and social media teams up at night, professionally. The conversations are real, raw, and authentic all while revealing to listeners the unfiltered, not-so-known truths of today's most interesting marketers.
Quickly becoming one of Oktopost's most popular original podcast shows on the internet, new episodes air every Thursday on Radically Transparent, a podcast channel, built for marketers, by marketers.
Catch all episodes here.
Like What You Heard?
Help us get the word out! Leave a rating and review on Apple Podcasts by heading on over to the Library Tab under Shows. Click on the podcast subscription and scroll down to Ratings & Reviews to give it a star rating.
It'll take you less than a minute and it'll help us spread the word about Radically Transparent.
Subscribe to the Radically Transparent Podcast, brought to you by Oktopost, today:
We're on Apple Podcasts
YouTube
And on Spotify
Read more: oktopost.com