Disclosure: This content is reader-supported, which means if you click on some of our links that we may earn a commission.
What would you do with an extra $1,500 a day?
With a bit of work and the right platform behind you, you can create an online store that generates that kind of revenue (and more).
Shilpi Yadav is an excellent example. She quit her job to start an online clothing store based around her Indian heritage. Despite all the risks, the brand now makes more than half a million dollars a year (averaging around $1,500 per day).
She built her online store using Shopify, one of the best ecommerce platforms on the market. However, there are a ton of different options to choose from depending on what you need.
And the most significant thing standing in the way of your own $500k success story is deciding which ecommerce platform is right for your new store.
So to help you out, I reviewed seven of the best options in the industry, depending on your current situation.
The top 7 options for the best ecommerce platforms:
Wix – Best for flexibility and customizationShopify – Best all-in-one ecommerce platformBigCommerce – Best for medium to large storesSquarespace – Best ecommerce platform for creativesWooCommerce – Best for WordPress websitesOpenCart – Best for selling digital products Ecwid – Best for integrating with your current platform
How to choose the best ecommerce platform for you
The best ecommerce platform for your business depends on several factors like your experience level, your customization requirements, and the type of products you want to sell.
But choosing the right platform can feel overwhelming because there are countless options to choose from.
To make things easier, I created a list of things to consider as you go through the process.
It may help to start with a list of requirements and the features you need. From there, you can narrow down your choices based on the following criteria.
Physical vs digital products
Digital products are a booming market. But selling and delivering digital products isn't the same as delivering a physical product to someone's doorstep.
Different ecommerce platforms handle each type of product differently. And some may not support digital products at all. So it's important to understand which type you plan to sell before you make a decision.
Deployment options
If you already have a website, the best deployment option is integrating an online store rather than building a brand new website on a new platform.
Furthermore, if you use WordPress, you can add ecommerce functionality via a plugin.
Unless, of course, you want to start with a clean slate.
On the other hand, if you don't have a website, you probably need a website builder with the capability to create something from scratch. So, think about the route you want to take and choose a platform that offers the right capabilities.
Day-to-day management
Order management, product creation, tracking orders, and dashboard navigation are important factors of day-to-day ecommerce management.
And it's important to choose a platform that's easy to use and manage on a daily basis. It shouldn't feel like a struggle to create new products, check the status of an order, or update the pages of your website.
Furthermore, it's important to find the right ratio of flexibility and customization to ease of use. And keep in mind, the more customizable the platform, the harder it is to manage. Why?
Because flexible platforms offer more settings and options to configure.
You can simplify your workload by choosing a platform that offers just enough flexibility without going overboard for your specific needs.
Design and flexibility
Some ecommerce website builders (like Wix) are truly drag and drop, meaning the customization options are endless. If you can imagine it, you can build it. But, that freedom also makes the platform more difficult to use.
Other platforms integrate into your current site, taking the look and feel of your existing website with very few customization options. For some users, this is perfect.
But others may want more control.
If you're just starting out, simple designs and ease of use are more important than design flexibility.
However, if you already own a physical store or an established brand, design is more important so you can create a cohesive aesthetic from one touch point to the next.
Advanced ecommerce features
Do you want to be able to offer discounts or accept payments through different payment processors? Maybe you want to send visitors a reminder email when they exit your website with something in their cart.
Perhaps you're interested in creating customer profiles and analyzing advanced analytics.
Other advanced ecommerce features include:
Email marketing integrationsMemberships and recurring paymentsGift cards and discount codesPartial payments or payment plansShipping and fulfillment managementProduct variationsProduct categories
Think carefully about what you need and what would be nice to have. Then, you can use your list of requirements to narrow down your list of choices.
The different types of ecommerce platforms
There are several different types of ecommerce platforms on this list. And which type you should choose depends on your current situation.
Ecommerce website builders
These are all-inclusive website builders that include ecommerce functionality.
This option is best for businesses without an existing website (or those who want to start over from scratch). Website builders also don't require a lot of design experience to get up and running so it's an excellent choice for beginners.
Adding ecommerce functionality to an existing website
If you already have a website, integrating an online store is much easier than starting over on a different platform. Several of the recommendations on this list can be used with an existing website so you don't have to worry about starting over.
However, these typically require a bit of coding knowledge to customize so they're not suitable for beginners.
WordPress plugins
This option is best for users already using WordPress to run their website.
Note: If you don't know what a WordPress plugin is, this probably isn't the best option for you (go with a website builder instead).
#1 – Wix Review — The best for flexibility and customization
Wix is a great option if you're looking for an affordable and flexible ecommerce platform. It's famous for it's drag-and-drop interface with complete design freedom to create anything you can imagine.
With Wix, you also get access to more than 500+ prebuilt website templates and plenty of customization options (with no coding required). Or you can create pages from scratch with complete design control.
Furthermore, they have a robust mobile app so you can make changes and manage your store from anywhere in the world.
Wix also includes a wide variety of marketing features, like emails, Facebook ads, and social media posts right from your account dashboard. You can even sell directly via social media.
Their ecommerce plans include powerful features, like:
Support of 90+ languages and local currencies250+ apps to add extra functionality to your siteNo additional transaction feesCustom product pagesWorldwide shipping and taxesCoupons and discountsAdvanced sorting and filteringProduct collectionsCustomizable checkoutRecurring payments
Plus, if you already use Wix, you can upgrade to an ecommerce plan in just a few clicks within your account dashboard.
Wix offers four ecommerce plans for online shops of different sizes, including:
Business Basic — $23/monthBusiness Unlimited — $27/monthBusiness VIP — $19/monthEnterprise — custom pricing
This is an excellent option if you have a small store or special design requirements. However, If you expect a high order volume and large range of products, you're better off with BigCommerce or Shopify instead.
#2 – Shopify Review — The best all-in-one ecommerce platform
Shopify is an all-in-one ecommerce website builder that powers more than one million online stores, making it one of the most popular choices on this list.
However, it's not as customizable as Wix. But it offers more advanced ecommerce features because it's built specifically to host online stores. Plus, it's easy to use with just the right level of flexibility.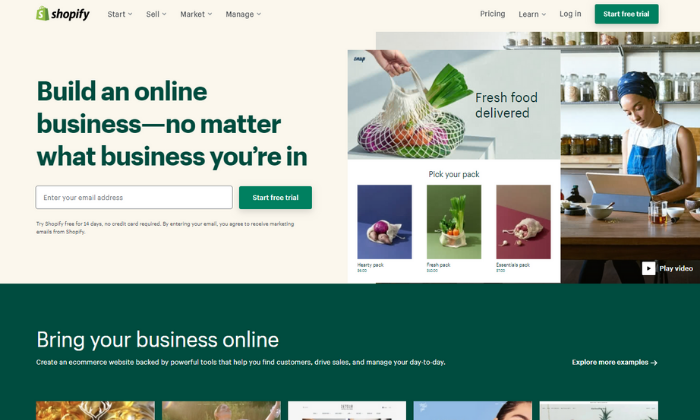 It's also incredibly versatile, powering micro to large stores, and everything in between. Shopify plans include access to an incredible suite of ecommerce features, including:
Point of Sale for brick and mortar shopsReal-time carrier shipping ratesAbandoned checkout recovery100 different payment gatewaysAutomatic tax calculationsCustomer accounts and profilesFulfillment centersAdvanced inventory managementUnlimited productsIn-depth analytics
Plus, with 70+ professional themes (nine of which are free) and 4,100+ apps, you can create a beautiful and highly functional ecommerce store without having to start from scratch. Or write a single line of code.
Combine that with award-winning 24/7/365 customer support and you have an excellent ecommerce platform.
Shopify offers five plans for businesses of all sizes, including:
Shopify Lite — $9 per month Basic Shopify — $29 per month Shopify — $79 per month Advanced Shopify — $299 per monthShopify Plus — custom pricing
Shopify Lite is a great option if you want to embed products and "buy" buttons onto an existing website. However, it doesn't come with the all-inclusive website builder.
Keep in mind that Shopify has its own payment processor. They charge 2.4% – 2.9% + $0.30 depending on the plan you choose. They also charge additional fees (0.5% – 2%) if you use a separate payment processor like PayPal or Square.
#3 – BigCommerce Review — The best for medium to large stores
Like Shopify, BigCommerce is an all-in-one ecommerce website builder specifically for large online stores. It includes more advanced ecommerce features suitable for managing high volumes and a large number of products.
With a customer base of 100,000+ stores, including some big names like Ben & Jerry's and SkullCandy, they're a smaller player in the industry.
But that doesn't make the platform any less powerful.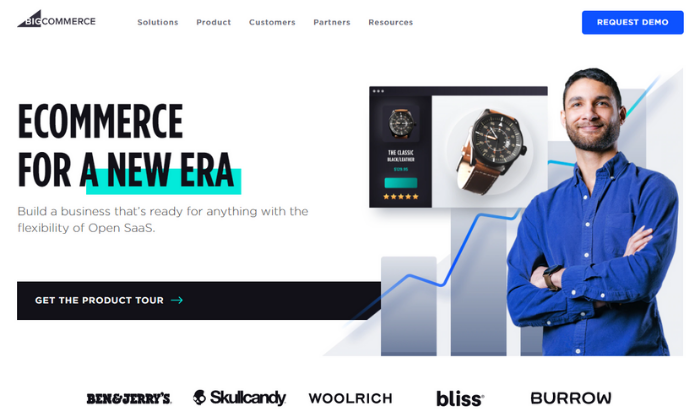 BigCommerce plans include access to powerful, industry-leading features, including:
Customer accounts for faster checkoutsMobile-optimized checkoutAbandoned cart recoveryGoogle AMP and AkamaiAdvanced product filtersCoupons and discount codesAdvanced inventory managementCustomer groups for personalized shopping65+ payment gateways with no extra transaction feesBuilt-in shipping management
Plus, all of their plans include unlimited products, file storage, bandwidth, and staff accounts.
And you can choose between 12 free mobile-responsive design templates or opt for a paid template to make your online store stand out from the crowd without touching a single line of code.
BigCommerce offers four paid plans (with a 15-day free trial), including:
Standard — $29.95/month with a $50,000 annual sales limitPlus — $79.95/month with a $180,000 annual sales limitPro — $299.95/month with a $400,000 annual sales limitEnterprise — custom pricing
If you're just getting started, BigCommerce is overkill for your online store. However, if you're an established business or plan to sell high volumes, it's an excellent choice.
#4 – Squarespace Review — The best ecommerce platform for creatives
Squarespace is well-known as a website builder, but their higher-tier plans also include ecommerce functionality. Furthermore, their design templates are famous for their ease of use and creativity, making this an excellent choice for creative online stores.
You can also install and customize multiple templates at a time to see which one you like best. And switching between templates takes just a few clicks.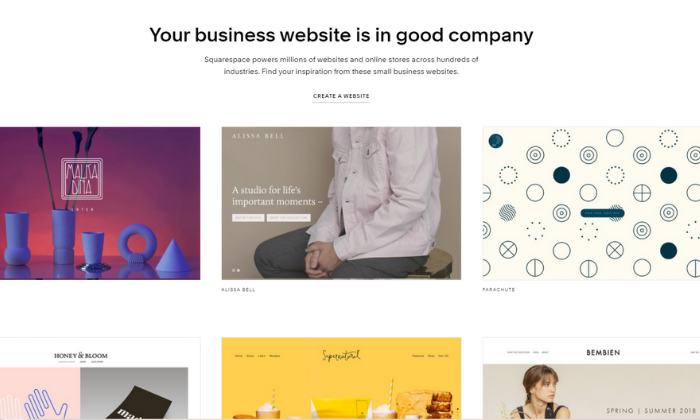 Aside from beautiful templates, Squarespace offers a variety of ecommerce features, including:
Subscriptions, digital products, and in-person compatibilityBuilt-in tax tools for automatic tax calculationsDiscount codes and gift cardsAbandoned cart recoveryMobile-optimized checkoutMobile store managementRich product listingsQuick view capabilityInventory managementReal-time shipping estimates
Furthermore, Squarespace integrates with most of the popular email marketing and social media platforms so you can sell and market your products like a pro.
And they have fantastic 24/7/365 customer support ready to answer your questions and help you get things set up the way you want to.
Squarespace offers three ecommerce plans (and a personal plan), including:
Personal — $12 per month + no ecommerce functionalityBusiness — $18 per month + 3% transaction feesBasic Commerce — $26 per month + 0% transaction feesAdvanced Commerce — $40 per month + 0% transaction fees
They also have an enterprise plan with a dedicated account manager, SEO consultations, and prioritized technical support.
And while the Business plan offers ecommerce capabilities, I highly recommend choosing Basic Commerce to start. It's the cheapest plan with no transaction fees, plus it includes other essential features like, customer accounts and ecommerce analytics.
#5 – WooCommerce Review — The best for WordPress websites
The recommendations thus far are all-in-one website builders. WooCommerce, however, is not. It's a WordPress plugin built to add ecommerce functionality to existing WordPress websites.
WooCommerce powers approximately 30% of stores online today. And with 80+ million downloads, it's one of the most popular ecommerce platforms on this list.
Note: if you don't already have a WordPress website, I don't recommend going this route. Stick to an all-in-one ecommerce platform, instead.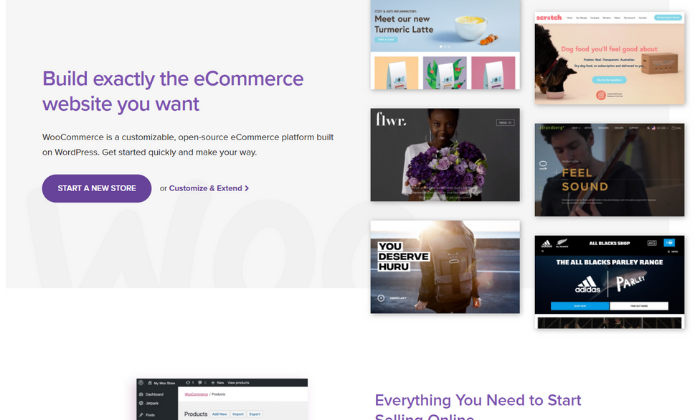 WooCommerce is a lightweight plugin that adds ecommerce capabilities like accepting online payments, configurable shipping options, product listings, and more. But you have to have an existing website to use it. So, it's a great option if you already use WordPress.
It includes powerful ecommerce features like:
Plugin extensions to increase functionalityRest APIs for developers to create custom platformsExtensive tutorials and documentation140 region-specific payment gatewaysSupport of subscriptions and depositsAutomated tax calculationsReal-time shipping ratesiOS and Android mobile appsPhysical and digital product capabilityEndless product variationsPublic support forum
And the best part? It's free to download, install, and use. Forever.
However, some of the extensions aren't free so watch out for that if you start digging into those.
With the power of WordPress behind it, your customization options are only limited to what you can imagine. So, the sky is legitimately the limit with WooCommerce.
But with that said, it's not the easiest or most intuitive ecommerce platform. So, I don't recommend it if you aren't already using WordPress and 100% comfortable with it.
#6 – OpenCart Review — The best for selling digital products
OpenCart is another open source ecommerce platform, much like WooCommerce. However, it's not limited to WordPress websites. But you do need to have an existing website to use it.
Over 300,000 online stores use OpenCart to confidently sell products of all shapes and sizes online. Plus, most web hosting companies offer one-click installation or will install it for free, so it's incredibly easy to set up.
Note: I only recommend going this route if you already have a website up and running.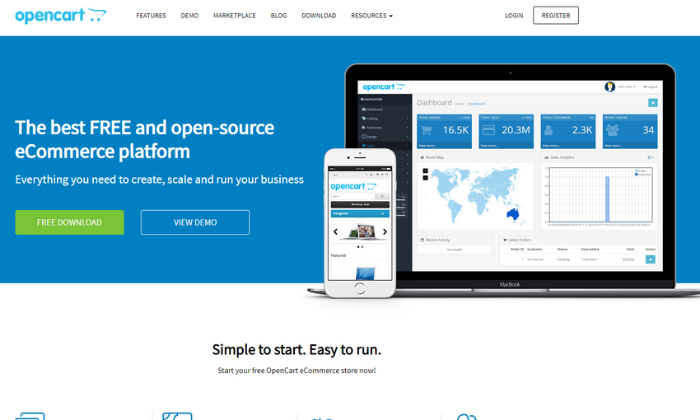 While you can sell products of any kind, the no-fluff interface (and free price tag) makes it an excellent option for selling digital products to make more money with your online business.
All without adding an extra monthly expense because it's 100% free forever.
OpenCart offers a powerful set of ecommerce features, including:
Simple and centralized admin dashboardAdvanced user roles and access controlsManage multiple stores from a single dashboardLimitless product variables and variationsBuilt-in affiliate management and rewards systemDiscounts and couponsUnlimited productsOne-click digital downloadsProduct reviews and ratings36 built-in payment methodsRecurring payments
Plus, with 13,000 modules and themes in the marketplace, you can add any functionality you can imagine including service integrations, conversion modules, email marketing, and more.
Keep in mind that not all of OpenCart's extensions are free. You may have to pay for more advanced capabilities.
And they don't currently offer support for free, either.
If you can't find what you're looking for on their community forum, you have to pay for dedicated help. Dedicated support starts at $99 per site per month or $99 for a one-time fix.
#7 – Ecwid Review — The best for integrating with your current platform
Like OpenCart and WooCommerce, Ecwid is an ecommerce platform you can use to integrate with your current platform, regardless of what you're already using.
It integrates with platforms like Weebly, Wix, WordPress, Squarespace, and more. So, if you already have a website set up and want to add ecommerce functionality, Ecwid is an excellent choice.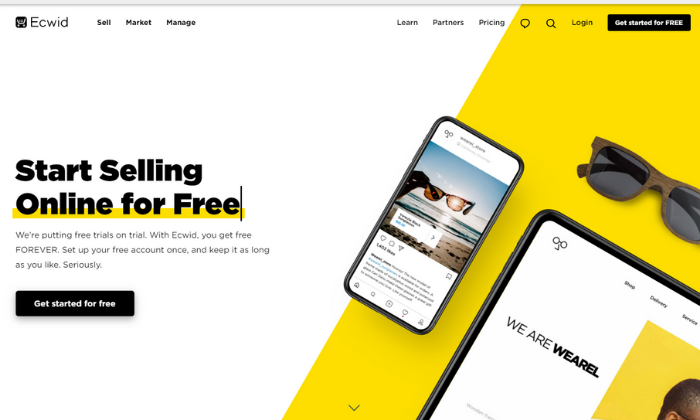 With that said, they also offer an all-in-one ecommerce website builder if you want to start from scratch. However, there are better website builders to use.
So, I only recommend Ecwid if you want to integrate ecommerce into your existing website.
This ecommerce platform includes a wide range of features, like:
Multi-channel selling (social media, marketplaces, in-person, etc.)Integrated email marketing and advertising featuresCentralized inventory and order managementNo transaction feesFully responsive designsBuilt-in POS integrationsCustomer accounts for easy checkoutReal-time shipping rate calculatorPoduct variationsDigital product capabilities40 payment options
The biggest downside is that you can't manage your store from inside your website account dashboard. You have to log in to Ecwid instead. So, you need to manage two separate accounts.
But the good news is… you can start on the limited free forever plan to try it out before making any investments.
The free plan only allows up to ten products, so you have to upgrade if you need more. Ecwid also offers three paid plans, including::
Venture — $15/month (up to 100 products)Business — $35/month (up to 2,500 products)Unlimited — $99/month (unlimited products)
As a stand-alone store builder you might be better off with other options (like Wix and Shopify).
But if you already have a website and want to add an ecommerce store, Ecwid is a great alternative to WooCommerce and OpenCart.
Summary
My #1 recommendation for most users is Wix. It's great for users of all experience levels. Plus, it's easy to use, highly customizable, and affordable as well. But if Wix is too customizable for you, Squarespace is a fantastic alternative.
For large stores, I highly recommend BigCommerce or Shopify.
However, if you already have a website, WooCommerce, OpenCart, and Ecwid are excellent choices depending on what you need.
The post Best Ecommerce Platforms appeared first on Neil Patel.
Read more: feedproxy.google.com