Are you looking to generate leads and sell more with Instagram?
Instagram Stories are definitely the way to go. Instagram says that 60 percent of people discover new products on the platform + one-third of the most popular Stories come from business accounts.
This makes Stories a legit strategy to reach more Instagram users and raise awareness of your business, products, or services.
By the time you're done with this guide, you'll know how to:
create, share, and save engaging stories
design good-looking custom stories
monetize stories and get profit
plan and monitor performance of stories.
Plus, you'll get inspired with tons of examples.
Sounds good?
Let's begin with the basics.
Instagram Stories: the What, the Why, and the How
How to Make Instagram Stories?
In this section, we'll talk about how to create and manage your first Instagram Story.
First, apply for an Instagram business account to be able to create the stories and make the most of all Instagram's story features.
It's completely free and very easy.
Install the Instagram app, go to Settings, select Account, scroll down to Switch to Professional account, choose Business and follow the instructions.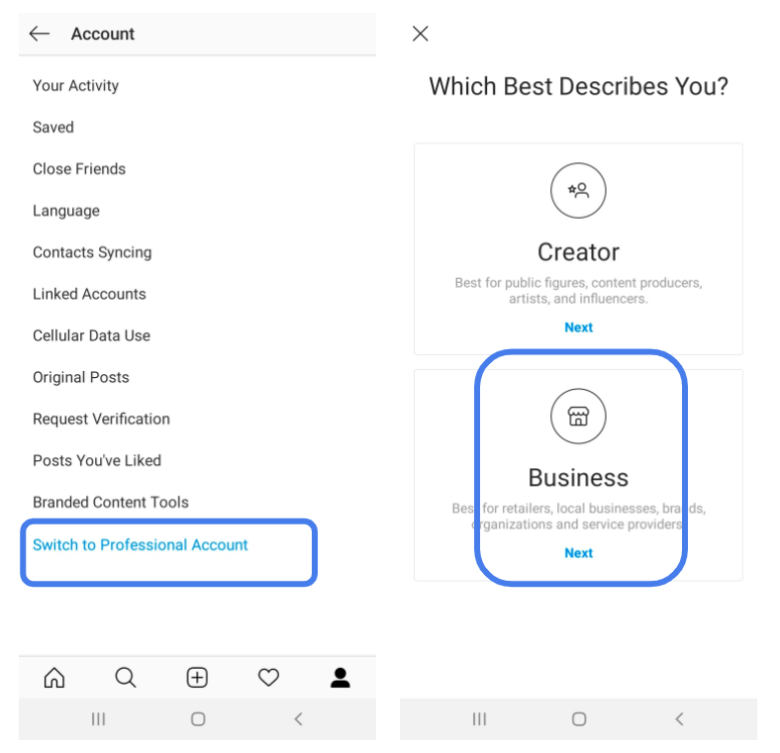 When you have a professional account, you can create Stories as a business.
That's our next step.
How to Add a Story
There are two ways to add a story to your account: take a photo or video by yourself or use content from your gallery.
When to use which to generate maximum engagement?
Ideas for taking a photo/video:
In case you'd like to share the news from a conference/meeting/webinar
Live videos from your office or travels
Live webinar where you share your knowledge or insights
Live tutorials and how-tos.
In this story below, Gordon Ramsay shares an update on an upcoming live cooking session.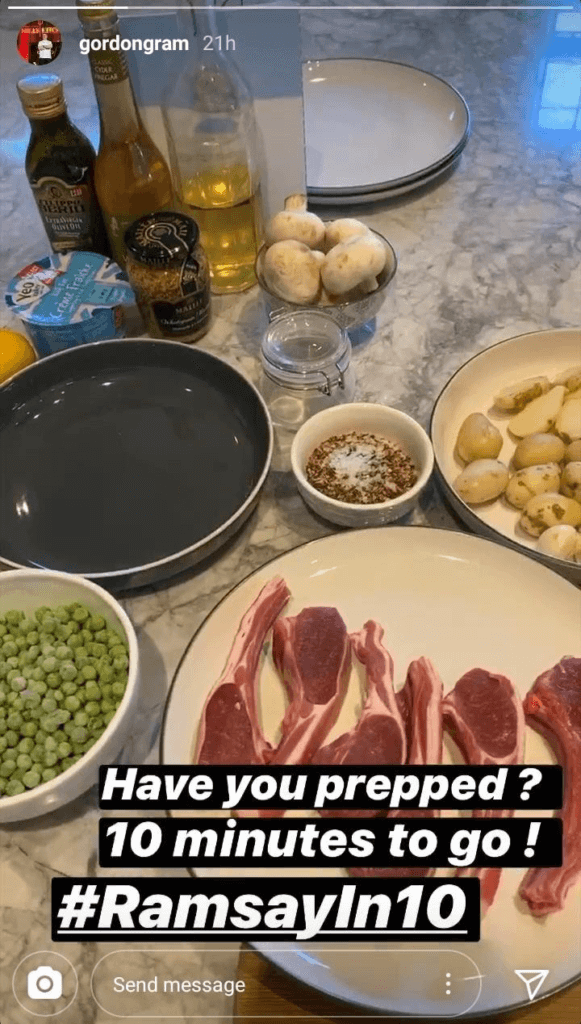 Ideas for using pre-made content:
Promote blog posts
Promote Instagram posts
Promote products/services
Conduct a poll/survey
Hold a contest or giveaway.
Here's an example of a pre-made content that promotes a product.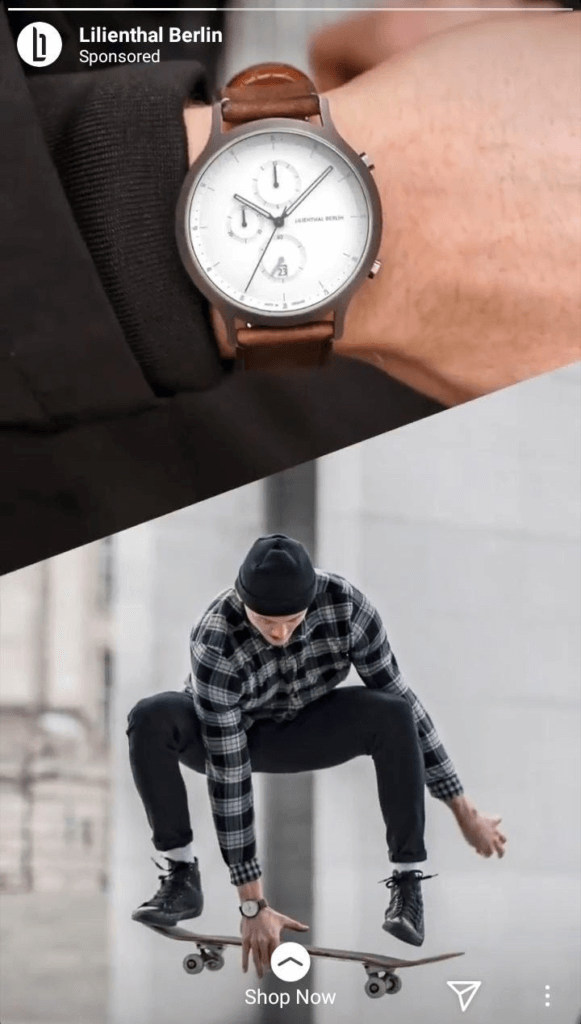 Need more ideas on how to use Instagram Stories for business? Check out these 14 brilliant examples from real businesses.
How to Edit a Story
Why edit stories?
It's a great way to attract the attention of viewers who see tens and even hundreds of Stories every day.
It can make your Story stand out from the rest.
It's a great opportunity to be creative and express yourself in a unique way.
One way to edit a story is to use stickers. Instagram provides stickers for donations, countdown timers, questions, polls, hashtags, locations, and weather.
Create a story, click on the Sticker button at the top of the screen. It takes you to the collection of stickers.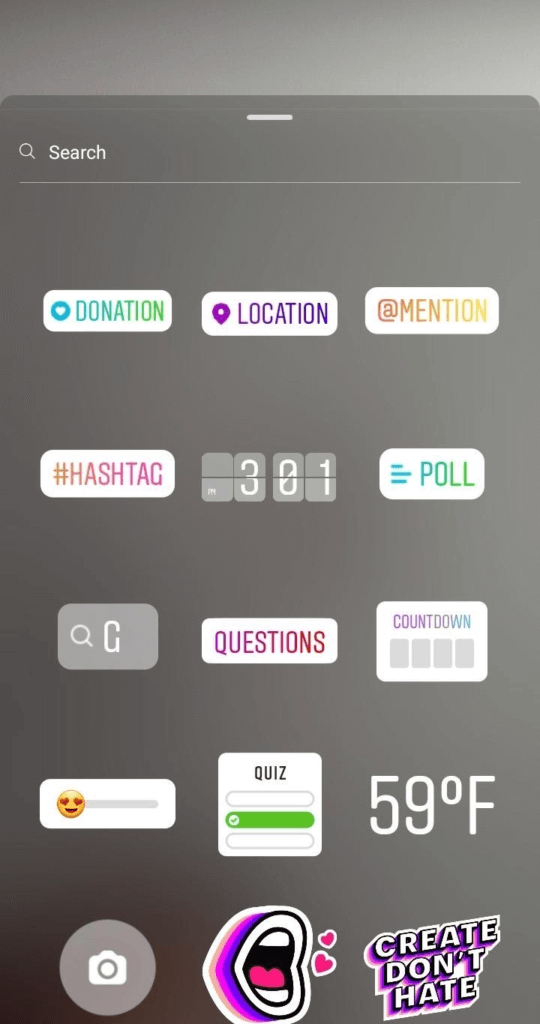 There are also tools providing editing. Canva, for example, has the Instagram Story Editor with stylish, professionally-created templates to start creating awesome content.
Besides templates, Canva's editor also provides access to a library of images, filters, and fonts.
How to Delete a Story
Open an uploaded story and tap on the menu icon in the bottom right. There, choose the Delete option.
Archive a Story
Luckily for us, we can save stories for later by archiving them on the mobile app. For businesses, it could be a good idea to track content creation or backup content that performs well.
To archive a story, you need to:
Go to Settings in your Instagram mobile app
Click on Privacy and then Story tabs
Under the Saving section, switch on the Save to Archive option.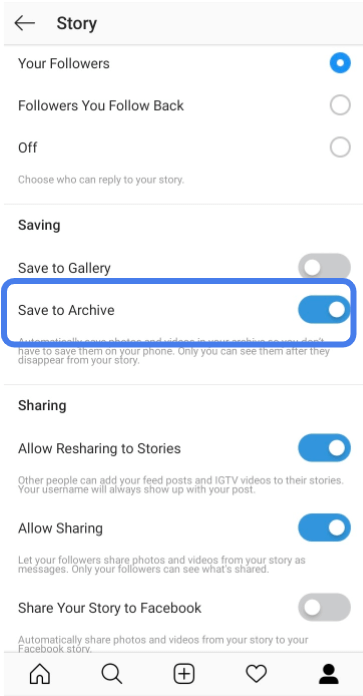 As you can see, there's also an option to save content to the gallery. If you'd like to save the stories to your device's memory, be sure to activate this option, too.
What are Instagram Story Highlights?
Basically, these are stories the user can choose to save to their profile permanently. You can create a Highlight from an existing story from the archive or make a new one.
For businesses, this feature is useful for:
categorizing posts with products and services
differentiating types of content
keeping the feed in order
allowing visitors to find products/services/content easier.
To add a story to a Highlight, tap Story Highlights just below your bio on the profile.
Next, choose the

button to open the gallery of available stories. Make your choice and tap Next to go to the cover edit window. Change the cover to your liking.
Next, the app will prompt you to choose the name for the Highlight. Try to be concise with the title to be able to read it comfortably on a small smartphone screen.
How to Share Videos in an Instagram Story?
One of the reasons people go to Instagram is to watch videos. The launch of IGTV a couple of years ago has drawn millions of video fans to the platform, making it one of the best social media for video marketing.
If you'd like to share a video-based story on Instagram, you need to tap on the camera icon in the top left corner on the feed page.
Next, tap on the recording button and hold it to make the video. When you're done, you can share it with your audience by tapping on Your Story button in the left bottom corner of the screen. It will display the further steps you'll need to take to finish publishing.
Instagram Stories: Basic Analytics
How to Check Views on Stories
People often ask,
"Can you see who views your story on Instagram?"
Knowing who your viewers are is actually helpful. For brands, for example, it can help with customer segmentation and lead generation effort.
Thankfully, you can see viewers, by opening a story and swiping up on the screen.
The move opens the list of people who viewed your content. If you don't wish to share it with everyone, there's an option called Close Friends, just for that.
By checking this feature, you can limit the number of people who can view your stories to a hand-picked group.
To create an Instagram group of Close Friends, go to the profile menu (the three lines icon in the top right corner of your screen).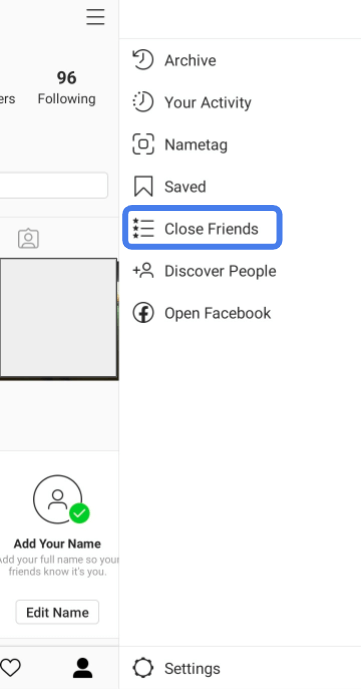 Clicking on this option opens the list of followers with an option to Add and Remove people. Feel free to create a custom list and tap Done.
When you're finished, next time you're going to be posting a story, you'll see a Close Friends option at the bottom of the screen.
This feature has proven to be a big hit among both private and business Instagram users. An influencer, for example, can have customers in one Close Friends list to share their content.
Speaking of business users, Instagram has made post management, monetizing content, and getting analytics easier with the Facebook Creator Studio.

The tool was created specifically for influencers and users who create a lot of original content (bloggers, etc.). That's why it has advanced business options like content monetization and scheduling of IGTV videos.
Explore the data behind your Instagram account.
Find the best time to post on Instagram
Track your follower growth overtime
Understand your post engagement
How Often Should You Post Stories?
As just mentioned, scheduling is included in the Facebook Creator Studio to help content creators with achieving maximum reach.
You see, there can be too many stories per day. If one doesn't make every story epic – which is pretty hard if you're creating original content – then one has to limit how many stories to post daily.
Unfortunately, the universal formula for the optimal number of stories doesn't exist. However, you can figure your own unique formula.
"Start with one story per day and measure the engagement," says Matt Bledsoe, a digital marketing specialist at Alltopreviews.com. "Based on the results, you can increase this number to two next week."
Measuring the performance of your posts is critical to know which content performs better at engaging your followers.
Also, bear in mind that the success of Instagram Stories heavily depends on their ability to grab attention and entertain people.
Dive Deeper:
How to Produce Epic Instagram Content for Your Business
Planning and Scheduling Instagram Stories
As with any other social media content, making a calendar and planning your stories is a legit technique to maximize user engagement.
According to Social Media Today, these are the engagement levels that content gets on Instagram.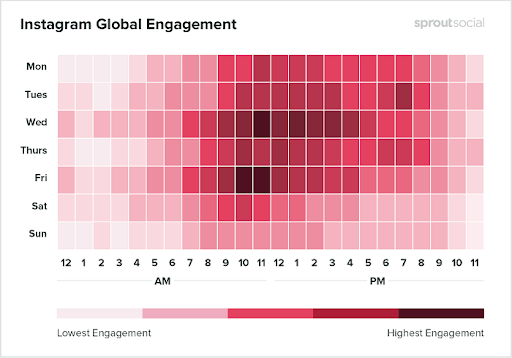 Source: Social Media Today
Wednesday is an obvious winner, with Friday coming in second place.
While your audience might have different high engagement days, one thing is clear: to achieve the highest possible user engagement, you need to plan and schedule your stories.
Besides, planning ahead gives you more time to think about content ideas and research them.
To make sure that posts will be published exactly when you want, you can use a tool like Hopper HQ. With it, you can schedule up to 50 Instagram posts and set times to share them.
Instagram Story Features
How to make your stories stand out among the rest? By using features like filters, hashtags, and stickers.
Instagram Story Filters
Since Instagram introduced filters last year, we've seen a steady supply of awesome AR (augmented reality) filters. While they might not be the best option for all brands, it's an excellent option for those trying to reach Millennials and Gen Zers.
Remember, 67 percent of Instagram users are aged between 18 and 29.
Using filters is easy: they're available in stories. If you're a business looking to launch a unique campaign, you're welcome to use Spark AR Studio.
Instagram and Facebook made this tool available for all users back in April last year and it has been super popular since.
Basically, it's a vast collection of AR assets such as 3D objects, audio files, face landmarks, and animations. An easy-to-use builder allows creating great filters without coding.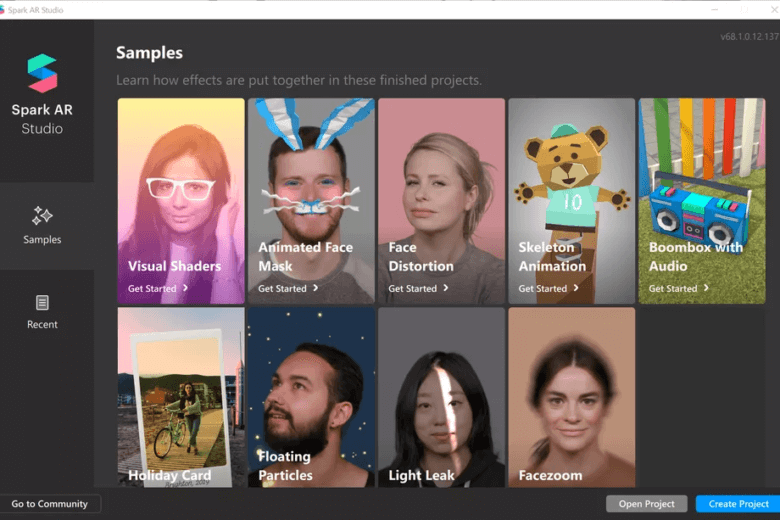 Source: Spark AR Studio
Instagram Story Hashtags
They're a great way to increase the reach of the story because it'll be visible for users watching the hashtags's story.
To add a hashtag to your story, simply start typing a # after choosing the content for uploading. Afterward, you can place it in a text, a sticker, or as a location tag.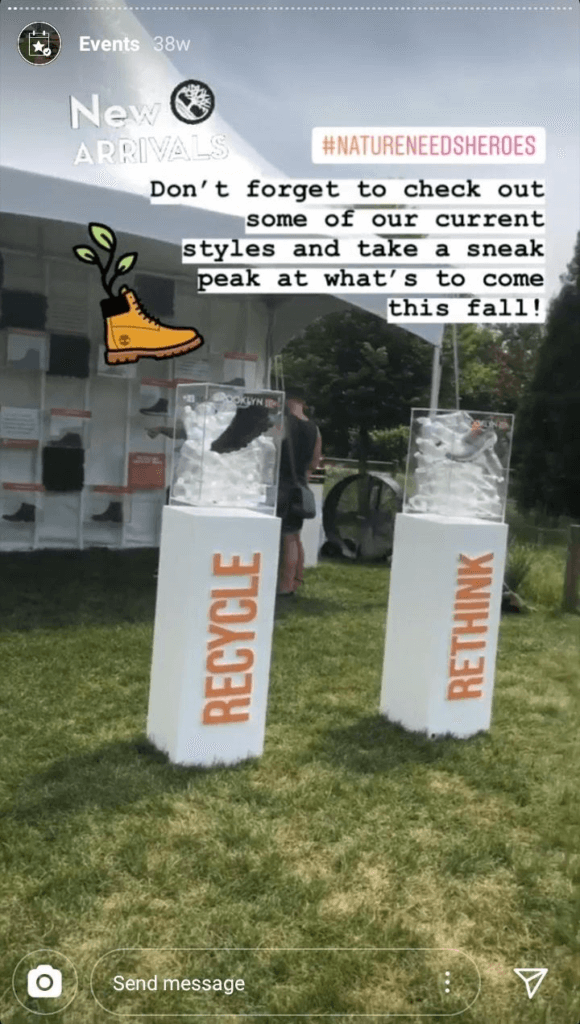 Timberland using #NATURENEEDSHEROES hashtag to promote their new campaign
When used properly, hashtags can increase the reach of your content and help with personalization by targeting specific groups of users.
If you're promoting a campaign like the Timberland example above, make sure to place a hyperlink on your Instagram profile bio. This way, you're driving more traffic to your campaign's page.
Here are a few ideas on using hashtags:
Insert location tags in branded stories. Stories with locations get up to 79 percent more engagement than those without
Use campaign slogans as hashtags. This is a good technique to make your campaign/slogan more memorable
Never insert more than five hashtags. Even though the limit is higher, excessive hashtagging is a sure-fire way to come across as an overly pushy and self-promotional.
Instagram Stories: Monetization
One way to monetize stories is with ads.
How to Use Stories Ads
Sharing ads in stories is a good way to improve your social media marketing.
Instagram often cites the case study of Ralph Lauren to show the effectiveness of stories ads. According to this release, the company was able to:
improve sales by 18 percent
increase the product page views among Gen Z users by 41 percent.
To create an ad, you need to have a Facebook Ads Manager account. The process is quite detailed but if you follow the instructions, you'll make a targeted, engaging ad quickly.
The cost of running advertising on Instagram depends on your budget and ranges between $0.20 and $2 per click.
The Ad Manager allows two budget options: per day and lifetime. So, you can run both short-term and long-term campaigns.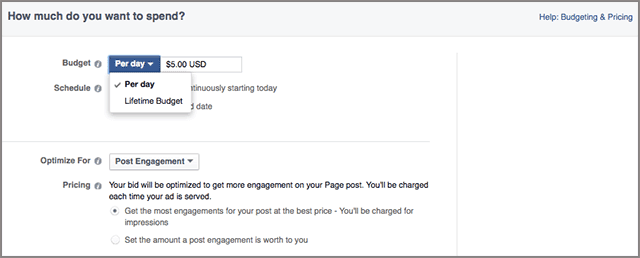 Source: Facebook for Business
Instagram Story Design Tips
This section breaks down some of the most important design tips to create better stories.
Design Stories with Branded Colors and Fonts
Every brand has its own color palette and default fonts, so try to use them every time you post a story. The consistency will help with brand recognizability.
Get Creative with Stickers
Stickers are a great way to add more user interest to stories:
If you're a brick or mortar business, you can use location stickers to promote your products and attract more people to your store
Poll stickers are great for requesting feedback and learning your audience's preferences
Stickers with follower's nicknames are a must for sharing user-generated content and announcing contest winners
Use GIF stickers to draw attention to call-to-actions.
Important: use stickers in moderation. The viewers would have trouble understanding a story's idea if a large portion of the screen is covered with stickers.
Use Design Tools for Instagram Stories
These design tools will be helpful for creating custom stories:
Canva. As mentioned Canva's Instagram Story Editor has nice templates and easy-to-use design tools
InShot. This is an Android and iOS app for creating and editing stories. Has both essential features like cutting and splitting to advances like video backgrounds, effects, and filters
StoryArt. Find 200+ free story templates and themes in this Android/iOS app. Suitable for both private and business users.
How to Use Instagram Stories for Business
If you're a brand looking to use Instagram stories, here are the most important use cases.
Increase Content Views
Instagram stories are a great way to get your content to be viewed by more people. To maximize the content reach with them, however, you need to meet the following requirements:
Consistent posting of at least one story per day
Using hashtags to draw more views, e.g. location tags are great for capturing local searches
Content relevance for the target audience. Any content should be created with the benefit for the viewer in mind.
If you're struggling with relevant content ideas, there are definitely some in your market research materials (customer persona, etc.).
Presenting these ideas concisely can be a challenge due to word limits, but it's also something that writing and presenting tools like Hemingway Editor and Trustmypaper can help with.
Important! If you find consistent posting a bit of a challenge due to a lack of ideas, don't create stories just for the sake of it. Take a break, make a content map with ideas, and then resume posting.
Plan your social media posts.
Visually plan your posts. Drag and drop everywhere.
Boost Engagement
Here are the points to keep in mind to create stories that reach their audience.
Use stickers creatively. Stickers can do so many things. To boost engagement of an upcoming campaign, for example, you can publish a short series of stories with countdown and other fun stickers
Collect feedback on topics your audience might be interested in. Use question, poll or quiz stickers to make Instagram users stop and engage with you
Go live. Instagram Live is a feature for launching an unedited, real-time stream. It's perfect for making exciting announcements, conducting webinars and Q&As, and broadcasting from exciting events.
Here's how Mackage, a clothing brand, announces an upcoming Instagram live event.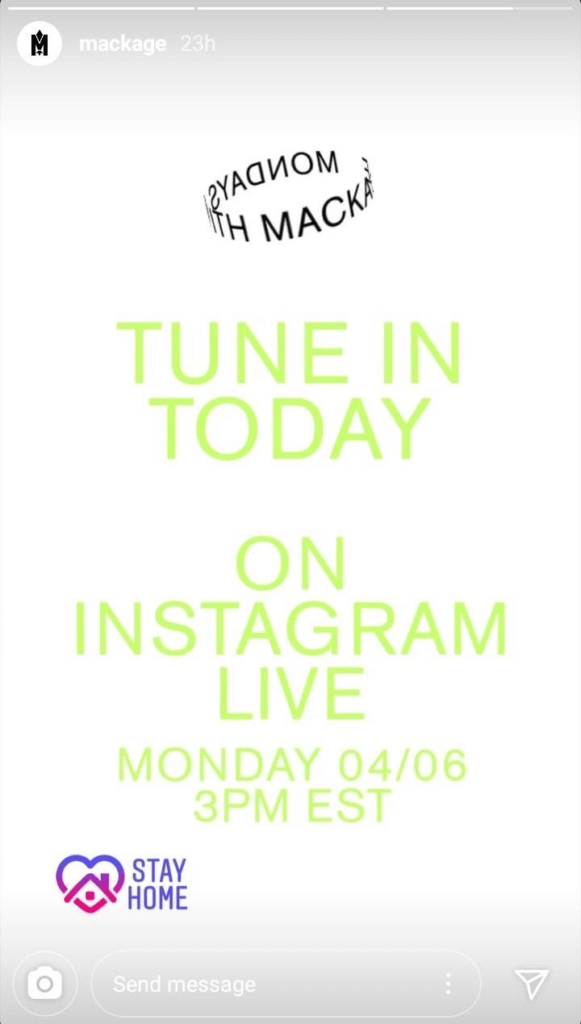 Don't forget to add links to Instagram posts and stories announcing events to guide the viewers to the landing page.
Sell More
Many people make a mistake by getting to the selling point right away.
Selling to Instagram users doesn't work this way. 45 percent of Millennials, for example, expect brands to build relationships with them before making a move to sell them something.
Rand Fishkin summaries this point beautifully in this tweet back from 2015.

Instead of getting into sales right away, consider using these strategies.
Anticipation strategy (for new products/services). If people don't know anything about your product, they won't buy it. Begin with stories that reveal some of the benefits and features of the product to generate some excitement. Then, in about a week or two, announce the launch and give some more details
Information sharing strategy. Chances are you've seen stories with a brand and a few words about how great it is. That's salesy and boring. Instead, think about questions customers might have about your product and share stories with answers to them
Action-oriented strategy. If possible, try showing your products in action with a cool video. In this story below, for example, Suunto shows an athlete running with a sports watch.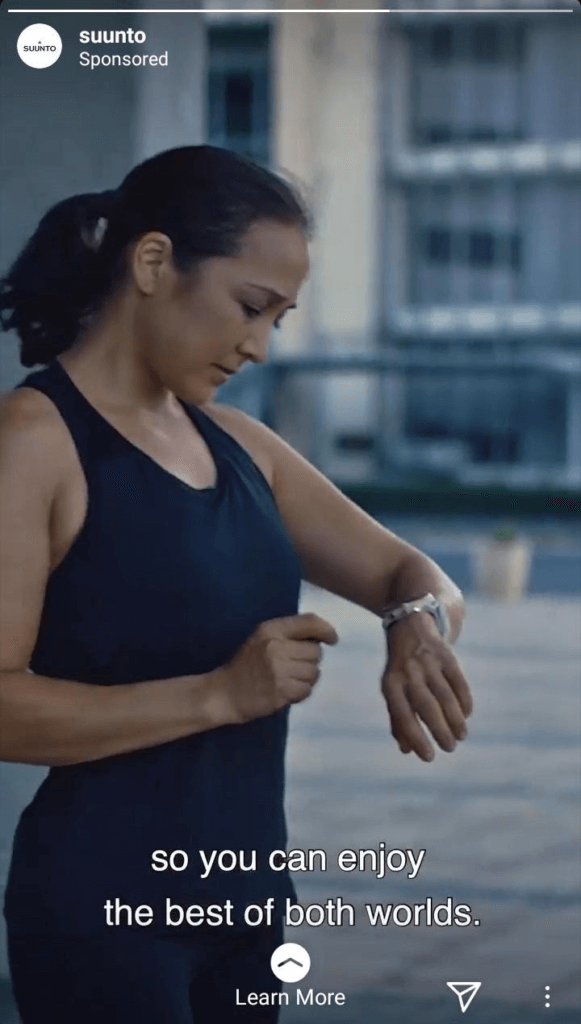 With time, you can also start sharing information about discounts and sales. They're a proven way to attract the attention of people, put the announcement in large letters to get them to look and add a link to the sale's page.
Keep Track of Instagram Stories Performance
To have the best chance to achieve these goals, you need to know the best-performing stories. While they depend on your audience and strategy, you need to check the content via Instagram Insights.
The data you get from there will make your work easier. Here are the most useful points:
The number of replies for your stories
The number of impressions
The number of unique Instagrammers who viewed stories
The number of clicks received by links in stories.
Together, the Insights will show the most popular stories so you can include more similar stuff in future posts.
Instagram Story Ideas for Businesses [+ Examples]
There are so many ways to use stories for businesses. Here are some good ones.
Instagram Story Ideas for Small Businesses
Free trials. Share a story announcing a free trial to get more attention (see examples below)
Go live. Show around the office, broadcast a Q&A, showcase your product in action
Share user-generated content (UGC). About 84 percent of people trust online reviews, so share some UGC to create a trustworthy image of your new business
Conduct polls to collect user feedback to improve your product
Engage with quizzes. They're fun and low-pressure plus give people a break from an avalanche of promotional content
Use influencers. They're great for raising awareness of your product and getting you more sales.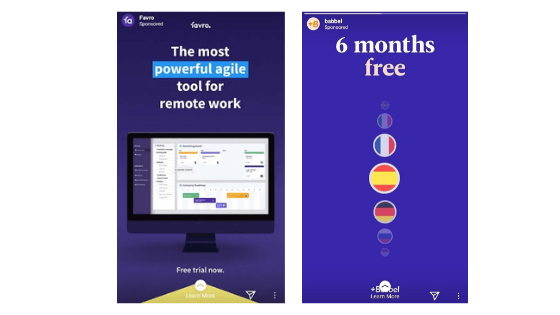 Instagram Story Ideas for Medium Businesses
Free trials. These can work for any kind of business, so they're always a good idea
Share brief instructions on how to use your product to raise awareness
Promote apps. Planning to launch a new app soon? Make a story (see example below)
Conduct polls and surveys. Engage users with these tools but keep topics highly relevant
Share UGC. It involves customers and increases your credibility (see example below)
Influencer marketing. Use a relevant influencer, followed by your target audience to achieve maximum results.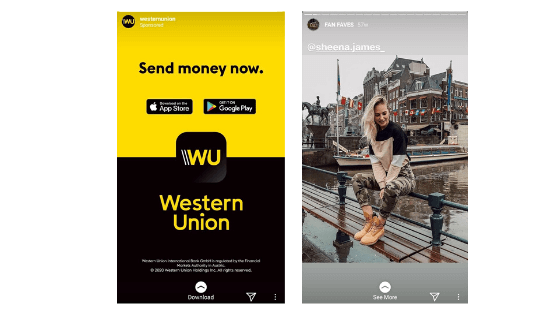 Instagram Story Ideas for Large Businesses
Free trials. This could work especially well for B2B businesses selling services
Showcase your products in a creative way. If your product is well-known, try searching for creative ways to promote it
Show your product in action. Shoot a video showing how people are using your product in real-life situations
Announce new products, collections. Draw more traffic to your website by making an announcement (see example below)
Share info about your projects. These include community projects, charity, collaborations (see example below).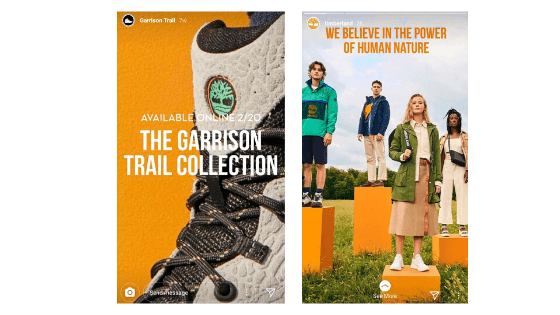 Need more inspiration?
Dive Deeper:
Instagram Inspiration: 15 Best Brands On Social Media.
Final Thoughts
Here you go, the ultimate guide to Instagram stories. Hopefully, you found answers to all questions you had and have a good idea on how to use them.
There are many ways to use stories but one thing's for sure: if you're doing social media marketing without Instagram stories, you might be behind your competition.
Use the info you've just read to get ahead.
Guest Author: Daniela McVicker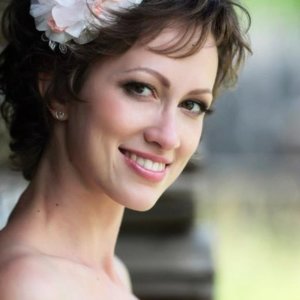 Daniela McVicker is a blogger and a freelance writer who works closely with B2B and B2C businesses. She is currently working with TopWritersReview, a service that collects feedback about paper writing websites on the internet.
Daniela is always trying to combine proven marketing techniques and new trends to build long-term relations with the audience.
The post An Ultimate Guide to Using Instagram Stories appeared first on Hopper HQ Instagram Scheduler.
Read more: hopperhq.com