Most beginners in SEO look for the best free keyword research tools to get them started. It makes sense; as they are new to the business, it is a good idea to start with free tools and learn how keyword research works, and also see whether or not digital marketing is something they would want to pursue in the long term.
Web design is a time consuming and labor-intensive process. Not only do you have to come up with a layout that you think will help attract users, but you also have to develop content, work on the structure, make sure that links are working and so on.
One thing that often gets overlooked until the last minute is keywords research. Many newbies assume that this is something that they can do later when they already have a website in place. This approach may work, but it isn't a very smart one.
The best website designers start to think about keywords and keyword research right at the beginning. This helps guide content strategy and will get a website ranked faster.
Before we get into the 5 best free keyword research tools, let's have a quick look at some of the basics of keyword research.
What is Keyword Research?
Simply put, it is the process of discovering what words or phrases users are searching for online so that you can optimize your website around them to rank it first. Think of it as online market research.
Each time a user goes online, they are looking for something specific, and to find it they type in certain keywords. You need to know what they are looking for so that you can provide it to them.
The only way to do that is through keyword research.
It tells you what users are searching for, which is a good indication of products and services that they are interested in.
Ideally, the website that ranks at the top is the one that provides information with the specific keywords that users are searching for.
Many other factors go into ranking a website (content, on and off-page SEO, backlinks etc.), but none is more important than keywords.
The best keyword tools make it easy for you to find the right keywords for any niche.
What are the Best Keywords?
A low-competition keyword is one that lots of users are looking for, but not too many other marketers are trying to rank for. A good KW research tool will tell you how competitive a keyword is. If you choose to rank for high-competition keywords you have your work cut out for you, as you have to edge out everyone else who is trying to rank for the same.
The other thing you ought to be looking for is long-tail keywords. They can be very useful if your site is new, or if you are in a competitive niche and need to give yourself an edge. But what are long-tail keywords? There are 3 types of keywords: those that comprise of single words (for example "shoes"), those that comprise of 2 or 3 words (for example "women's shoes") and long-tail keywords which made up of 4 or more words (for example "women's high heeled shoes for the office"). If you notice, the last keyword adds up to 7 words, and it's very specific. Someone who types it in has some level of buyer intent, and they are easier to convert than someone who typed in a very general phrase like "shoes". If you use long-tail keywords you will be able to knock off a lot of your competition who are trying to rank for more general terms. The best keyword research tools will show you a list of long-tail keywords, and you can select the ones that have a high search volume and low competition.
Keywords that have a high search volume. Good keyword research tools tell you what the search volume for any specific keyword is. Search volume is the number of users who have searched that particular keyword in a given time. The best keywords have a high search volume and low competition.
Best Free Keyword Tools
Now that you have a bit of background into keywords, it's time to delve into some of the best free tools that are available for finding them. For each, we will have an overall description of the tool, a list of features, as well as the drawbacks.
Wordze is all about having as much access to keyword data as possible. It focusses on 4 key areas: word ranking, Adwords search, trend watching and metasearch.
While these 4 areas of keyword research are critical, they are not enough. It's a good idea to combine Wordze with one or two other keyword tools if you want to do in-depth keyword research that will give your content an edge.
It may be worth mentioning that there is no single keyword tool that provides all the data that one needs to outrank the competition, so using several of them together is the best approach.
Wordze allows you to see how a keyword performed during a specified period in the past. You can check searches for specific terms for a certain month or year. This is helpful especially for those who want to market seasonal products.
If, for example, you want to know how many searches there were for a particular type of firework for 4th of July last year, all you need to do is enter the parameters into the tool. The information you get will tell you whether that particular brand is something that you should attempt to sell this year.
Wordze Features
WordRank – This feature allows you to analyze keywords so that you can see how competitive they are.
Wordze Digger – The Digger feature searches through thousands of web pages to give you keyword suggestions. If you run a single keyword through Digger you'll end up with hundreds of pages of results. You can use it to go broad and deep.
Import keywords – you can import keywords from other databases, and there is a typo checker and thesaurus to ensure that you get accurate results every time.
You get API access for accelerated keyword research.
Excellent keyword difficulty tool – this is important for those who want to immediately see whether or not it is possible to rank for certain keywords.
You can use Wordze to manage many projects at the same time.
Wordze does good competitor analysis. Not only do you get to see what keywords competitors are ranking for, you can also see the links on the top 10 sites in your niche. You can find this in the WordRank Index section of the site.
The tool throws in a few good extras. You can see the age of a domain, use of + and – to refine searches, search for an exact match, broad match or any match.
Is there anything that's not to like?
In our opinion, there are a couple of things that Wordze can fix. The first is the overall look. It is rather dull compared to other products in this niche.
The other thing we feel can be improved is the Digger tool. While it provides useful data, it takes between 5 and 10 minutes to process a search.
This is a leading free keyword research tool. Formerly the Google Keyword Tool, is useful for anyone who needs to research keywords for a new campaign. It also provides valuable historical data about search trends that you can use for upcoming campaigns.
This tool sometimes gets a bad rap, especially since it stopped the exact number for search volume. It shows you a range, and for many marketers, that's not enough – they want to be able to see exact metrics.
The reason why so many digital marketers continue to use Keyword Planner is that it provides keyword research data that's hard to get anywhere else.
Some marketers don't use this tool because they assume that you have to pay for an advertising campaign to have access to the features. When you try to use it the way you would a normal keyword tool, it prompts you to answer questions about advertising goals, how much you plan to spend and so on.
Contrary to what some believe, you don't have to spend a dime to use the Keyword Planner tool. There are detailed online guides by seasoned users of this software, and they will take you through the step by step process of how to use the Keyword Planner tool for everyday keyword research.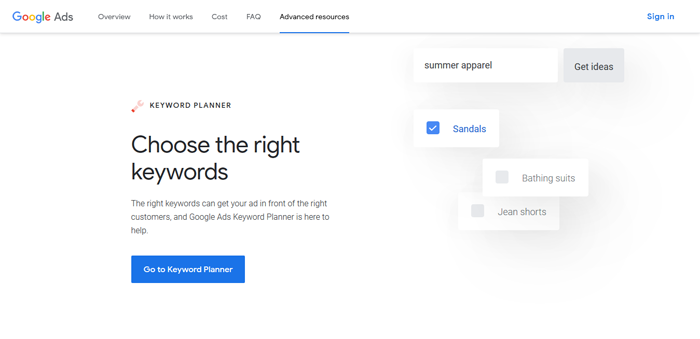 Keyword Planner Features
You can use it to get data for specific periods. By entering specific dates you'll see what searches were like for that time, and if you hover over each bar on the graph you can see more details about the data.
Use Keyword Planner to compare data from different periods. You can, for example, compare searches for a specific keyword over Christmas last year to the year before that.
Create and customize comparison charts that you can share with others in your team.
You can see mobile search trends independent of other devices. The mobile search appears in a different color from desktop searches on a graph. By hovering over each bar you'll see the exact number of searches for that period.
It allows you to target specific geographic locations and get exact data for specific keywords. You can do the same for sub-geos.
See mobile trends through volume bid adjustments.
You can group like keywords together for faster, easier searches.
The tool can add keywords to existing campaigns.
As you can see, these are pretty unique features, and they are only possible because Keyword Planner has access to data collected by Google that isn't available to everyone else.
Is there anything not to like?
Our main problem with this tool is that over time Google has reduced the number of keyword suggestions. They used to be around 500, but now you get around 300. However, that's enough keywords to get you started on any project.
This tool has one unique strength: it generates keywords by gathering autocomplete suggestions from Google. It's the right free keyword research tool to use if you want a lot of suggestions quickly.
Keyword Sheeter looks rather rudimentary – like a programming tool from the early 2000s, but don't let that fool you. It can generate about 1,000 keyword suggestions in a minute which you can export with the click of a button.
It has positive and negative filters which are useful for showing you which keywords can help you create ranking posts and which ones will have the opposite effect. Say, for example, you would like to search for "watch" the timepiece. The positive filter will give you keywords for different types of watches, while the negative filter will show you keywords associated with "watch" the verb so that you can leave them out of your content.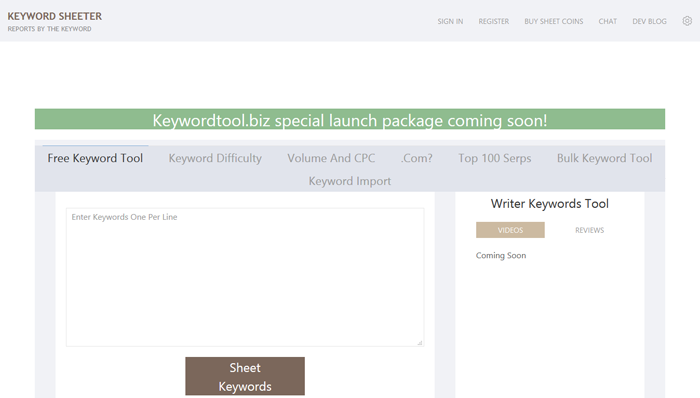 Keyword Sheeter Features
The free keyword tool gives you content ideas, generates subtopics, is fast and free.
It generates lots and lots of keywords. Just type in a topic or a word, hit the button and you will continue to get keywords until you stop it yourself. After you stop generating keywords you can export them to an Excel spreadsheet and start the process for another keyword.
You can also use this tool in reverse. If you have a block of text and you would like to see which keywords it contains copy, paste and run the software and they will be highlighted for you.
What's not to like?
This is one of the best keyword research tools for anyone looking to generate thousands of keywords fast, but it doesn't show you how competitive they are or what volume of searches you are looking at.
This one makes it to the list of best free keyword research tools as it brings you keyword suggestions from Google autocomplete suggestions. It's described as a good alternative for Google Keyword Planner. For each term you enter you get up to 750 long-tail keyword ideas. You don't need to create an account to use this software.
One of the unique things about Keyword Tool.io is that you can use it in many different languages. It taps into searches from different regions to find what people are searching for in different niches.
You can see how often each keyword was searched for in a specific period.
This tool comes with a free and a paid version. While the free version is perfect for generating long-tail keywords quickly, the paid version has additional features that make keyword research easy. You can do competitor analysis, see Google Ads competition data, cost-per-click for different keywords and more.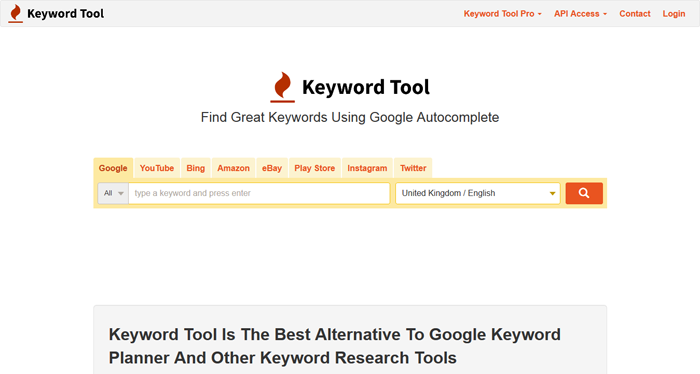 Keyword Tool.io Features
It is a good tool for Amazon affiliate marketing as it also brings you keywords from Amazon autocomplete suggestions. Choose the region that you are interested in and the language, enter the keywords and in a few minutes, you will have hundreds of long-tail keyword suggestions.
It integrates flawlessly with YouTube and Google.
You get different options to filter search results.
You can use the "Negative Keywords" function to exclude results you don't want to appear.
Interrogate Keyword Tools.io using questions and prepositions.
All results can be exported to CSV and Excel. Alternatively, just copy and paste into a spreadsheet.
What don't we like?
The only problem we have with this tool is the user interface. If they could make it a bit more appealing the tool has great potential.
This tool claims that it can generate more words than similar software in a short time – 2,000 in a single search. Google does fewer than that. WordTracker is very easy to use; all you need to do is type the keyword you would like to investigate and it does the rest.
You can see the number of searches for specific terms in the last 12 months, the competition, questions related to your keywords and more.
It allows you to save keywords for future use, or export them to a table for easier manipulation and sharing.
For each keyword you search there are additional suggestions provided by the software that you can use to write richer, better content. You can also include or exclude keywords. If, for example, you want to search for keywords related to Apple, the brand, you can exclude words like pie, strudel, juice and so on.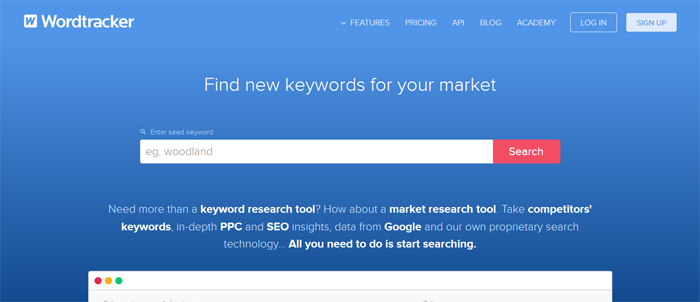 WordTracker Features
It gives you thousands of keywords for a specific period in a specific territory.
It does good competition analysis. For every search you'll see which keywords are easiest to rank for.
Works very fast – you get results in a matter of seconds.
The software organizes results in a way that's easy to sort and use.
It combines results from Google, Amazon and YouTube. The more marketing platforms a keyword research tool uses, the better, as it gives you additional channels that you can market to.
The software is cloud-based – no installation required.
It's very easy to understand and use.
You can use this software for multiple projects at the same time.
What's not to like?
The software sometimes experiences significant downtime, which can be inconveniencing if you need to generate keywords right away.
Conclusion
The best free keyword research tools may not be as packed with features as the ones you have to pay for, but the ones discussed here will give you just what you need. They can generate enough keywords to get any project rolling and they are easy to learn and use.
Always remember that it's a good idea to use several tools at the same time every time you do keyword research. Whether you are using free tools or paid ones, you'll be able to get more in-depth analysis if you take this approach.
The post 5 Best Free Keyword Research Tools appeared first on Woofresh.
Read more: woofresh.com