This article, What Is a Recurring Invoice? + How to Set One Up for Easy Money, was published on the Millo.co blog. Thanks for reading!
One of the biggest challenges when running a business is creating an effective payment system. Invoices are usually followed by endless follow-up emails and calls to the clients. For small businesses that lack cash security and massive resources, every delayed payment can be concerning.
What if there was a way to automate the whole invoicing process and charge the company beforehand in a way that benefits both sides? This is where a recurring invoice comes into play.
It allows you to create a system where an invoice is sent off to your client at regular intervals. These are usually linked to their credit cards for an agreed-upon amount, helping both sides to stay on top of their payments.
In this guide, we will look at some of the benefits of a recurring invoice and how you can set up the billing system. We will also see if the system is right for your business. Let's dive in!
What is a recurring invoice?
A recurring invoice is an invoice that is automatically sent to your clients at regular intervals. These contain the same invoice details and are perfect for companies that offer the same service at regular intervals.
It helps you create an efficient system that bills your clients regularly without the hassle of reminders and manually sending the invoice.
Businesses that usually use recurring invoices are rental companies, subscription-based services, marketing companies, and consultants. However, it is not limited to these industries alone. Any company that offers little to no change to its services can set up recurring invoices to streamline its billing process.
For instance, if you own a small SEO agency, you may offer a fixed marketing package to your clients. The package will likely have standard pricing monthly. Instead of drawing up a bill every month with the same details, you can simply use a recurring invoice that bills your clients.
A company can use a recurring invoice after it gets permission from the client to be charged regularly for a regular amount. The charge then continues till the contract's termination date or when the client decides to change the billing process.
Recurring invoices are often automated and depend on software to do the work for you. Just set the template with the details of the client and sit back. You can choose to either auto send the invoice every month or make changes for one-off jobs before it goes to the client.
A recurring invoice differs from the standard invoice in two main ways:
One, the details of a standard invoice vary according to the service. Each standard invoice is different and is drawn up after the service has been delivered.
Two, most details of the recurring invoice are decided beforehand and are based on the package the client zeroes in on. However, details of a standard invoice are filled in after the service. In some cases, the client may even ask for revisions on the invoice.
A recurring invoice is a staple of any small business that offers packaged services at regular intervals. In the next section, we will look at some of the benefits of using this billing system.
Benefits of using a recurring invoice
A recurring invoice helps you streamline your accounting process. Let us take a look at some of the benefits of using this system.
1. Improves cash flow
A recurring invoice provides income at regular intervals. Your cash flow gets a steady boost monthly to help you cover costs and expenses due to the recurring revenue.
Knowing the amount of money that will come in also helps you make accurate cash flow projections. It is not to say that recurring invoices should be the only basis for your cash flow projections. However, it does help you know how much money you can bank each month.
Once you work out how much you stand to earn every month, planning expenses also becomes more manageable. A guaranteed monthly income can help you make informed business decisions on where and how to plan your expenses.
2. Speed up your payments
One of the biggest hurdles for small businesses is to get payments on time. A recurring invoice can help you cut through the endless emails and follow-ups. Since most recurring payments are decided beforehand, the client has a better idea of when the payment is due and can plan better.
By sending invoices at regular intervals, you can encourage a payment routine. When clients know when they are expected to pay, it may help them plan their payment schedules better.
Once a routine is established, there are likely to be fewer missed payments. It helps you avoid awkward follow-ups and saves time. For the client, they don't have to remember to make the payment and avoid late fees. A win-win!
In addition to this, some recurring invoices also let you link to the client's credit card. Doing this helps make the payment process more convenient for both parties.
3. Saves time
A recurring invoice helps you save time in two main ways. One, you spend less time chasing payments. Two, it helps you avoid creating an invoice from scratch every month.
Whether you set your bills to auto send or make amends to the draft, you help avoid duplication of efforts. It also helps you free up resources for other activities.
While it is not time-consuming to create a new invoice every month, it does tax your resources. It is true, especially for small businesses that have limited resources. The time can be better utilized on other functions like marketing and sales.
4. Make fewer mistakes
Each time you create an invoice, you run the risk of making a mistake. Creating an automated system of invoicing helps you make fewer mistakes.
Use online invoice software to create an invoice template, set the schedule, and make any changes if required. It helps you create an automated process that has little to no room for human error.
You can review any changes if the order changes, but the primary invoice remains unchanged. It means fewer errors and no more duplicate work.
5. Improve customer relationships
Over a period of time, timely invoices and fewer payment follow-ups translate to a better relationship with your client. It can be awkward to follow up for payment, especially with long-term clients.
Setting up a recurring invoice helps you and the client manage the payment schedules better. By linking the credit card to your payment systems, you are assured of the payment. It helps you focus on the deliverables rather than chasing payments.
It also helps the client see you as a part of their extended team rather than an ad-hoc supplier. By invoicing at regular intervals, you tend to become a part of their budget and become a natural extension of their planning process.
6. Integrations and multiple gateway options
Most billing software also allows you to integrate with other systems like customer relationship management platforms, accounting systems, and payment gateways.
These allow you to have a complete overview of the records for each client and promote transparency. It enables your team to have a better snapshot of the clients and promotes collaboration.
Recurring billing software also allows you to choose from multiple payment options. In case one gateway fails, clients can always choose another mode to pay. It gives them flexibility and allows you to safeguard against any glitches and failures in one payment system.
The consistency and accuracy of a recurring device can help you create a smooth payment schedule. It benefits both the client and you as it saves time and cuts down on unnecessary follow-ups.
In the next section, we will look at how you can set up a recurring invoice system for your work.
How to set up a recurring invoice?
To set up a recurring invoice, you first need to create the invoice in your software. While the exact steps will depend on your chosen software, the basics remain the same.
Let us take the example of FreshBooks. The first step is to create the invoice, which can then be converted into a recurring invoice template (image below).

To create the recurring invoice, follow the steps below:
1. Pick a date
After you create the invoice, you need to set the date and frequency for the invoice. Under the recurring schedule, choose the next issue date when the first invoice will be generated.
The date is usually the last or the beginning of the month, depending on your contract. Then, key in how often you want the invoice to be generated. You can choose from yearly, monthly, or weekly options. It also allows you to set a custom range like every six weeks.
Then set how many invoices you will need. It will depend on your contract's length and range from infinite (more extended contracts) to x number of invoices (smaller projects).
2. Insert the work tallied
After you set the date, add the work to be billed to the client. Here, you can add notes, late fees, or other terms relevant to the client.
The billing software also allows you to add all work and expenses automatically that are tied to that particular client. While setting up the recurring invoice, click on the "Add a line" button and then choose " import unbilled time and expenses" (image below).

Here, you can choose from three options- all unbilled time and expenses, unbilled time only, or unbilled expenses only. Set the period for these expenses, and the software will automatically track all expenses and time to generate your invoice.
3. Include the total due
Next, include the total due to the client. The final amount will include all the expenses and time tracked during a given period.

Here, you can also choose to add any extra fee or work done. The bill amount will appear on the recurring invoice template, as shown in the image above.
4. Add the client it applies to and set to recurring
To get your recurring invoice started, add the client. Under the delivery options, choose between "send invoices automatically" or "create draft invoices and send manually". The second option is for those invoices that you may need to add extra work or time spent on a project during the given interval.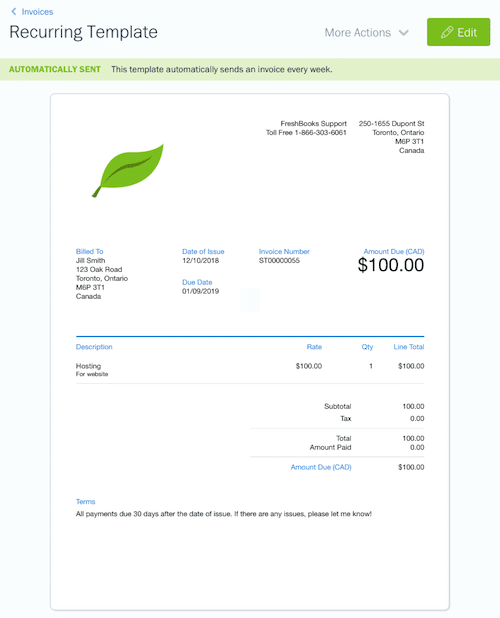 Set the invoice to recurring. You can easily view your recurring invoice templates ( as shown in the image above).
Once the recurring invoice template is fixed, just sit back and let the software take care of it. Though most software programs offer a wide variety of services, some best practices can help you get the most of this billing system.
In the next section, we will look at a few tips to keep in mind when designing your recurring invoicing system.
Best practices on recurring invoices
Most recurring software already has standard measures in place that help you create an effective system. However, some aspects like when to bill and how to best protect your payments can help you create an airtight system of payments and create a transparent system that will benefit both you and the client.
Make the most out of the software by keeping a few tips in mind. These will help you further streamline your billing cycle.
1. Timing your invoice
Companies have different payment cycles- while some prefer the start of the month, others often pay their employees and vendors at the end of the month. Ensure that you align your billing cycle according to the standard in your area.
Since recurring invoices are all about establishing a healthy payment routine, planning your payments around their natural payment scheme will help your business. The client is likely to see you as an extension of their in-house payments.
2. Always get written confirmation for recurring billing
Recurring invoicing uses the client's credit card information and other details. In addition to this, ensure that you also have written consent from the client to bill them regularly.
While your main contract may cover the duration of the billing, having a written agreement on using their financial information is a great way to avoid any disputes later on.
It should also mention when you will withdraw the money, for how long, and the agreed-upon payment.
3. Work one-off jobs into the contract
Recurring invoices are usually used for bundle packages, but sometimes you could also end up doing one-off jobs for the client in a given month.
Ensure that you include this in your written agreement. There are two things to consider here. One, will you be using the same payment method. Two, will the one-off job be billed together with the subscription services.
Is a recurring invoice set up right for your business?
Whether you are an ecommerce platform or a software company, a recurring invoice system suits all businesses. It is arguably the best fit for companies that provide regular services.
It is a great way to automate and speed up the payment process and benefit both you and the client. It helps them plan their expenses and establish a client's payment schedule, helping them avoid late fees and other charges.
These are some of the business types that can benefit significantly from a recurring billing system:
Companies that provide monthly services such as a digital marketing agency with a fixed number of posts or content targets.
Monthly maintenance companies that offer support such as upkeep of software and machinery.
Businesses that offer monthly training or learning workshops. These are usually a fixed number of sessions provided over regular intervals.
Software companies that offer subscription-based services or bundles for a license fee or monthly plan.
The best part about recurring invoices is that it is flexible and can be tailored to your needs. For instance, if you have a seasonal business or are halting services to a client, simply pause the recurring invoice and restart when you are back.
Whether you are a freelancer or a small business, a recurring billing system is a great way to establish a healthy payment habit. Not only does it safeguard your payments, but it also helps you be regular with your invoicing. It's easy to send a recurring email at the same time as a recurring invoice if you want to notify customers about their payment.
In Closing
A recurring billing system is a great way to avoid running after payments and creating a healthy payment routine. It helps you save time, make fewer mistakes, and create healthy cash flow for your business.
It helps the client plan out their expenses, and with fewer follow-up calls for payments, it leads to a better working relationship with you. Since the system requires a pre-authorization for payments, it also helps you be assured of your payments.
Depending on your software, you can create an invoicing schedule. Just create a template and let the software fill in the details. It will then auto send the bill to your clients like clockwork.
Ensure that you get written permission for the use of the client's financial details. Planning your invoicing schedule around their payment cycles also helps create an effective system. So, what are you waiting for? Set up your system today!
The post What Is a Recurring Invoice? + How to Set One Up for Easy Money appeared first on Millo.co.
Read more: millo.co