"OK boomer." VSCO girls. "Old Town Road." Even if you're not on TikTok, you're probably familiar with some of its most pervasive memes.
TikTok, or Douyin, as it's known in China, is a social network where users share short videos, typically set to music. Launched in its current form when China-based TikTok merged with lip-syncing app Musical.ly in 2018, the app has rapidly skyrocketed to cultural dominance.
Downloaded 2 billion times, TikTok has 700 million monthly active users worldwide, including 100 million active users in the U.S.—up 800% in just over two years.
Among Gen Z, it's ubiquitous: About 40% of TikTok users are aged 16 to 24.
Contents1.The Benefits of Using TikTok for Business2.Native TikTok Video2.1Quick Tips for Creating TikTok Videos2.1.1TikTok Video Size2.1.2TikTok Video Length2.1.3TikTok Video Orientation2.1.4TikTok Video Sound2.1.5TikTok Video Ideas2.2How to Share a Video on TikTok2.3TikTok Video Metrics3.TikTok Video Ads3.1Types of Video Ads on TikTok3.1.1Top View3.1.2Brand Takeover3.1.3In-Feed Video Ad3.2How to Create a TikTok Video Ad3.3TikTok Ad Metrics4.TikTok Live4.1How to Stream on TikTok Live
The Benefits of Using TikTok for Business
Because the platform is still so new, TikTok provides a massive opportunity for early adopters to establish their brand presence, engage new—especially younger—audiences, and create new revenue streams. B2C brands are already testing the waters with influencer marketing campaigns, paid promotion, and shoppable video.
What makes TikTok especially distinct from other social networks, however, is its hugely loyal and active base. On average, TikTok users open the app 8x per day and browse for approximately five minutes each time—much longer sessions than SnapChat or Instagram. Whether you're a mom-and-pop shop or a global enterprise, this is a marketing opportunity you can't afford to miss.
There are a few key things you need to know before you get started, like the different video formats available on TikTok and how to use them.
Put Your Videos to Work
Create, host, manage, and share your videos.
Native TikTok Video
TikTok is wonderfully accessible to businesses of all sizes—all you need to get started is a smartphone and an internet connection. And there's no pressure to be perfectly polished.
Unlike most social media networks which curate highlight reels of an idealized lifestyle, TikTok videos are unapologetically silly. They feature teens performing goofy dance routines with their friends, middle-aged moms lip-syncing in their kitchens, and even politicians poking fun at themselves.
For brands, it's a fantastic opportunity to engage younger audiences. As The Washington Post's TikTok creator Dave Jorgenson told The Atlantic, the average subscriber to the newspaper is "'well over 40. So this is a really good way to, at the very least, get [younger people] to trust the brand or to know the brand."
Since starting to create TikTok videos in May 2019, The Post has amassed over 330,000 followers with its quirky takes on life in the newsroom. Not too shabby for a 142-year-old newspaper.
Learn From the Pros
In this micro-sketch, The Washington Post's comics reporter fights with the video games reporter over who has the best job. As the punchline, the newspaper's food critic interrupts their standoff to announce he's getting tacos.
@washingtonpostWho has the best job? ##thatssotiktok ##newspaper♬ Kazoo Wild West standoff – washingtonpost
Quick Tips for Creating TikTok Videos
TikTok Video Size
The aspect ratio for a TikTok is 9:16—pretty much the vertical default for smartphones. You'll only need to think about this if you're shooting from a camera and uploading to TikTok later.
TikTok Video Length
While TikTok video clips are a maximum of 15 seconds long, users can string together multiple clips to create a video up to 60 seconds long.
TikTok Video Orientation
As a mobile app, TikTok was built for vertical video. It's how most people already use their phones and—given the short length of TikTok videos—it doesn't make sense for viewers to have to change orientation.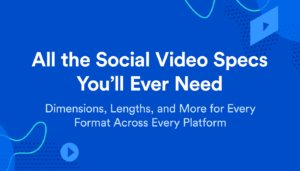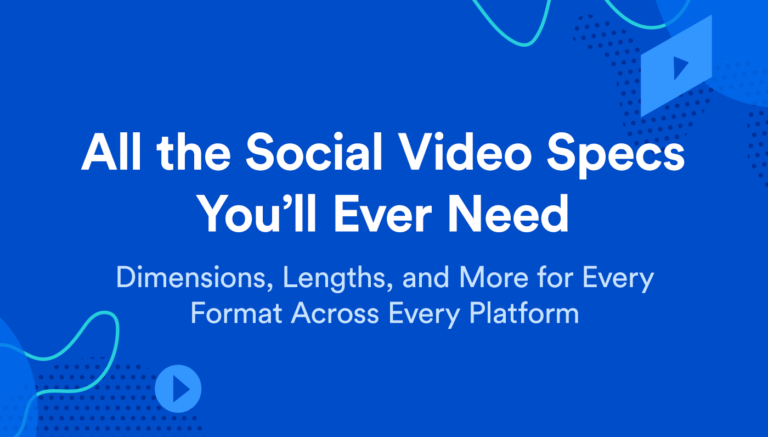 Get the Social Media Video Specs Guide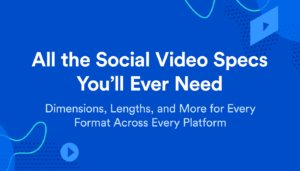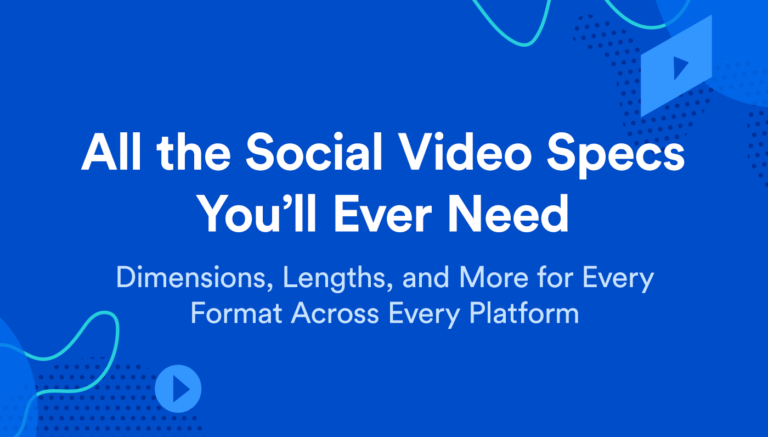 Every different social platform has its own requirements for videos. Every single one is in this guide.
Get the Specs
TikTok Video Sound
Unlike the silent social video you might be used to on other feeds, sound is essential to the TikTok experience (it started as a lip-syncing app, after all). Music forms the basis of many video trends on the platform—check out Lil Nas X's "Old Town Road" or The Living Tombstone's "No Mercy" for some past examples.
TikTok Video Ideas
The Music Video Clip: A lip-sync or dance performed to a short clip from a song or soundtrack.
The Micro Sketch: Short-form comedic interactions, often set to music. Ideal for cultural content that shows your brand's fun side.
The Video Meme: Short-lived video trends which circulate rapidly on the platform, only to disappear after a few weeks. Capitalize on these to get featured on the "trending now" page and be discovered by new audience members.
Learn From the Pros
NBA basketball players show off their celebration dances to the tune of "We Get Turnt Up."
@nbaHeaded into the new year and decade like… 😎 @nuggets vs. @houstonrockets TONIGHT! 🏀 (7pm/et, NBA TV) ##goodbye2019 ##nba ##dancemoves♬ My Friends (We Get Turnt Up) – Mr. Hotspot
How to Share a Video on TikTok
In order to create TikTok videos, you'll first need to create an account. If you haven't already, download the TikTok app for Android or iOS. Launch the app and, when prompted, create an account. Once you have an account, you can start creating TikTok masterpieces of your own.
Launch the TikTok app and select the Create (plus sign) button in the bottom center of your screen
If you've already recorded and edited a video, select Upload at the bottom right corner of your screen to upload your video
If you're recording a new video from scratch, you may want to select Sounds from the top center of your screen to select a soundtrack to record your video with—adjust the audio clip as needed before recording—or, simply press the red button at the bottom center of your screen to begin recording
Once you're happy with your recording, tap the red checkmark at the bottom right corner to navigate to the editing screen
Use TikTok's editing tools to adjust audio, add filters, or use video effects.
When you're ready to publish, tap Next in the bottom right corner
From the final screen, add a video description, hashtags, or tag other users
Tap Draft to save your video for later or Post to publish it immediately.
Pro Tip: Select "timer" from the right-hand corner to start a 3-second countdown for hands-free recording.
Learn From the Pros
In this TikTok video, Chipotle took advantage of the dance trend around the very on-brand "Guacamole" by Jayo.
@chipotleNow this is a bop @jayo ##chipanddip ##chipotle ##fyp♬ Guacamole – Jayo
TikTok Video Metrics
In order to access native metrics on TikTok, you need to switch to a pro account—a feature that any TikTok user can enable. If you don't already have a pro account, it's easy to switch.
Navigate to your profile page and open the Privacy and Settings tab.
Select Manage My Account
Select Switch to Pro Account and follow the steps from there
Once your pro account has been activated, a new analytics button will be available under your account options. There, you'll find an overview of your performance, along with deeper insights on your weekly and monthly views, follower growth, and trending videos.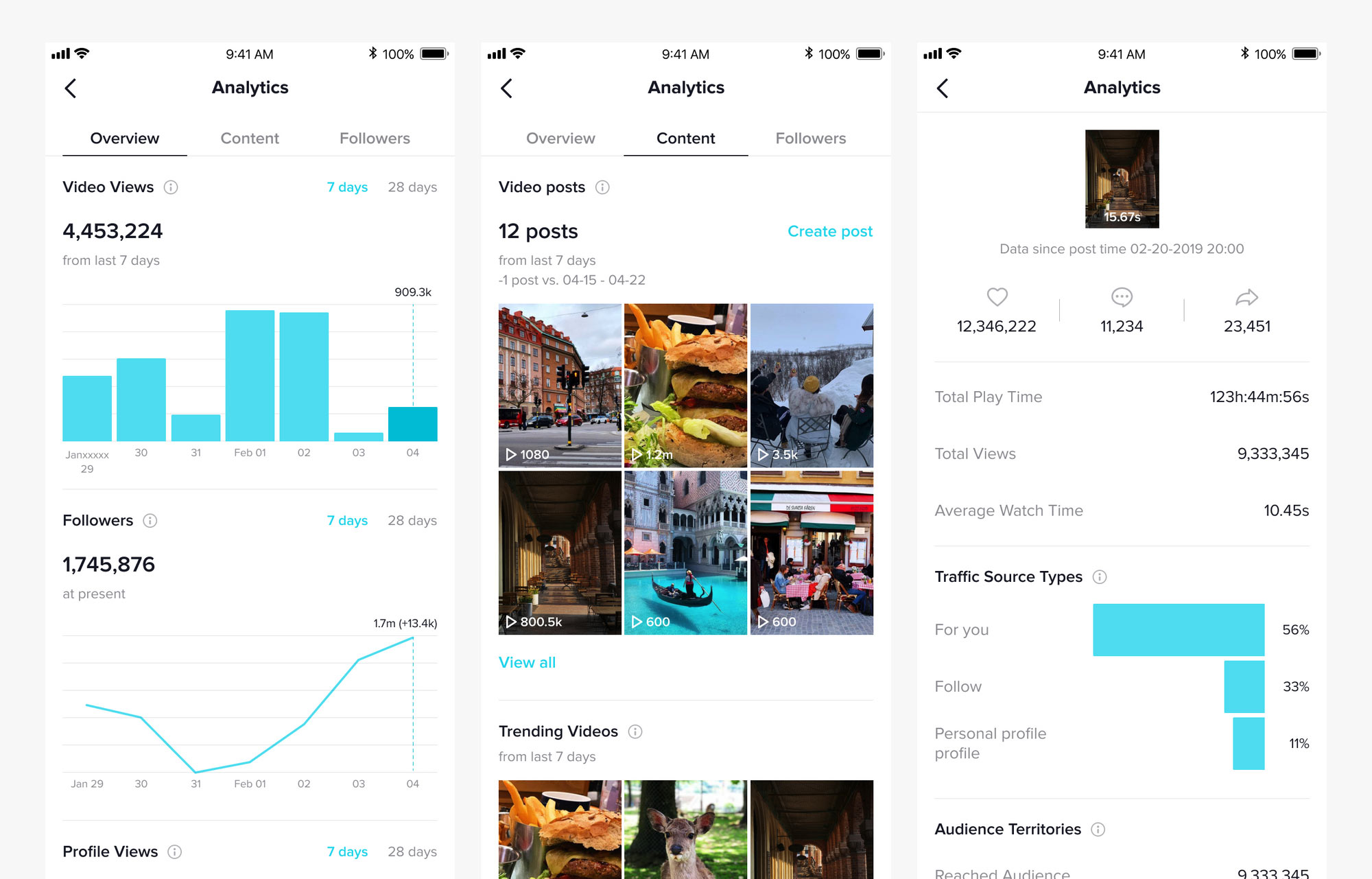 Don't worry too much about your follower count or number of views—instead, pay attention to trends over time. Is your follower growth trending upward? That's a good sign that people like your content and want to see more.
It's also useful to pay attention to insights on individual videos. Once you've published a few different videos, you'll start to see what resonates with your audience and can start to fine-tune your content accordingly.
TikTok Video Ads
TikTok's highly-engaged Millennial and Gen Z audience make the app an ideal platform for marketers targeting young customers. And, with the app available in more than 150 markets worldwide, covering more than 75 languages, advertisers can reach their target audience, wherever they may be.
But advertising effectively on TikTok takes some careful planning. The biggest mistake marketers make on TikTok is repurposing ad creative from other social media platforms, like Instagram, without thinking about how it comes across.
Evan Horowitz, CEO of ad agency Movers + Shakers, explains that, in contrast to Instagram, "TikTok is so real, it's so raw."
When his company was developing a TikTok campaign for Elf, a beauty brand, he emphasized "it was really important to us that whatever we created for this campaign feel very native in the way that TikTok operates."
The key to advertising success on TikTok is imitating the platform's raw authenticity.
Types of Video Ads on TikTok
TikTok offers several different kinds of advertising packages to brands. In addition to their video advertisement offerings, the platform allows companies to create branded effects—like filters, lenses, and special effects—or hashtag challenges encouraging audiences to create a specific type of video.
While we'll be focusing primarily on TikTok's video ad offerings, be sure to check out their advertising info page for a complete list of interactive promotional options.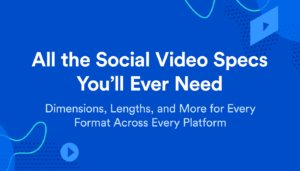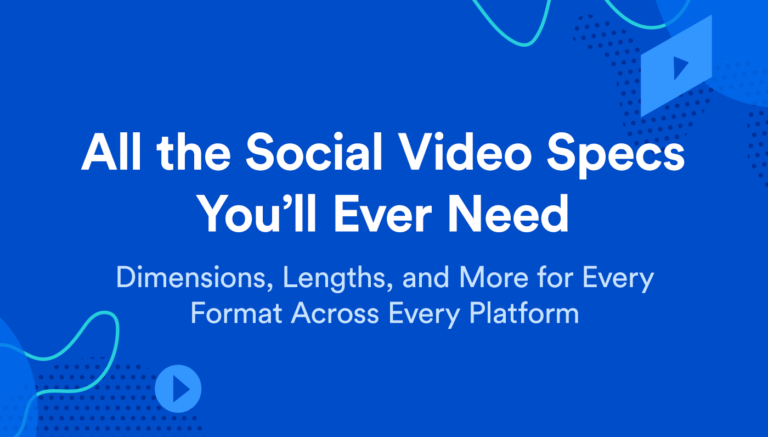 Get the Social Media Video Specs Guide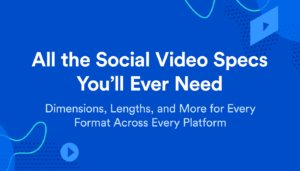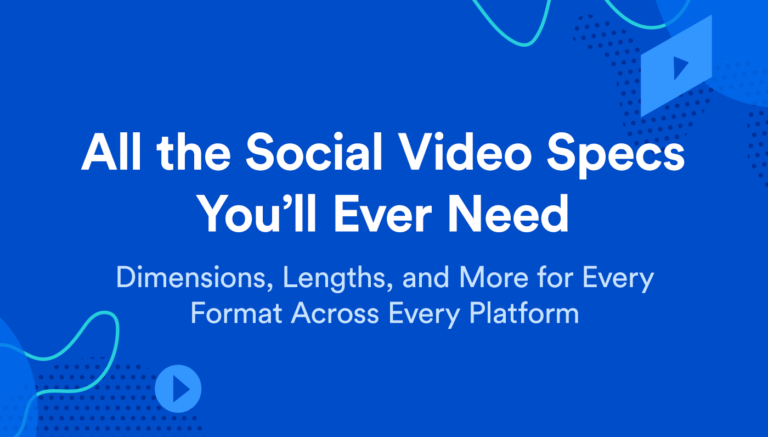 Every different social platform has its own requirements for videos. Every single one is in this guide.
Get the Specs
Top View
Top View is TikTok's premium ad offering. Top View allows a sponsored video to appear right at the top of users' feeds—like a native video—right when they open the app.
Quick Tips for Top View Video Ads
Aspect ratio: 9:16
Length: Up to 60 seconds
Orientation: Vertical
Sound: On
Learn From the Pros
To demonstrate the photo and video capabilities of the Reno 10x zoom edition smartphone, OPPO mobile created this short TikTok video showing off the power of the phone's zoom lens.
Brand Takeover
Brand takeovers are TikTok's take on a pre-roll ad. They play for three to five seconds when a user launches TikTok, before showing them their feed.
Brand takeovers can also be paired with other interactive campaigns. For instance, when Elf Cosmetics launched their #eyeslipsface hashtag challenge, they used a 24-hour brand takeover to drive participation.
Quick Tips for Brand Takeover Video Ads
Aspect ratio: 9:16
Length: 3 to 5 seconds
Orientation: Vertical
Sound: On or off
Learn From the Pros
Vans used this Brand Takeover video to drive traffic to its online store by showing off its fun personality.
In-Feed Video Ad
These ads appear in-feed just like native video content—the difference being that you pay to promote them to a specific audience rather than trusting your content to the whims of the algorithm.
Quick Tips for In-Feed Video Ads
Aspect ratio: 9:16
Length: 15 to 60 seconds
Orientation: Vertical
Sound: On
Learn From the Pros
To promote their hyper-curl mascara in Japan, Maybelline partnered with influencer Reiko to create a cute in-feed video ad comparing love to eyelashes—you can't always get your significant other (or your eyelashes) to do what you want. Thankfully, hyper-curl provides a solution to the latter, if not the former.
Image via TikTok.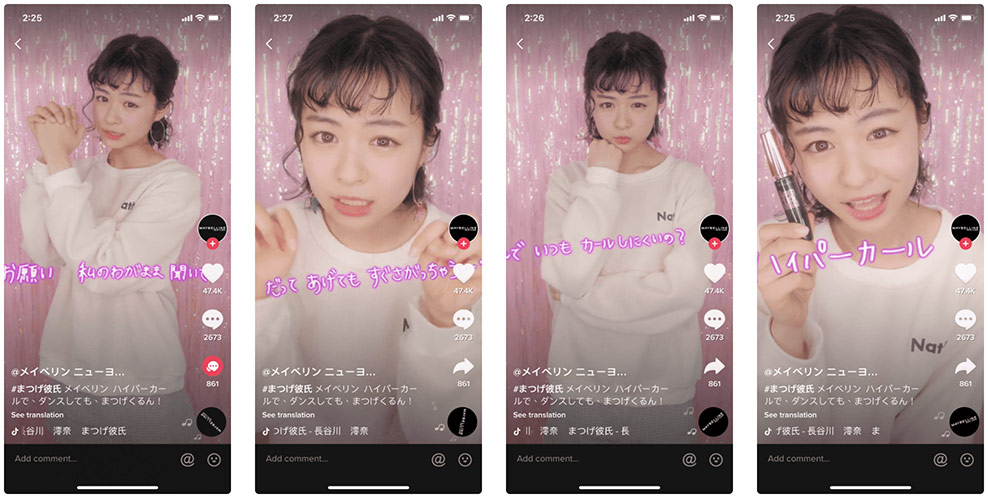 How to Create a TikTok Video Ad
Think about your goals: What action do you want your audience to take? Determine how much you're willing to spend to reach your objectives
Once you have an objective in mind, you can start working on your ad creative—TikTok has a built-in Video Creation Kit full of easy-to-use templates, making it easy for brands to design eye-catching ads that look great on the platform
When you're ready to share, click Create an ad in the upper right hand corner of the TikTok ads homepage (if you don't already have one, you'll be prompted to create an account)
You'll be taken to the TikTok ads dashboard, where you select Campaign at the top of the page and choose Create
Under the campaign menu, select Advertising Objective—from here, you'll be able to set a goal for your ad campaign: Traffic, App Install, or Conversions (select the one that best meets your goals)
Next, select Settings to enter your campaign budget—you can choose between daily or total budget, depending on your goals (note: The minimum campaign advertising spend on TikTok is $50 USD)
After you've created your campaign, you can set up your ad placements (TikTok allows you to select the platforms you'd like your ad to run on, including TikTok and its family of apps and sites)—if you're not sure where you want your ad to run or want to experiment, there's an automatic feature you can try, which lets TikTok determine where your ad would perform best and place it for you
Follow the prompts to enter the necessary information for running your ad, including URLs, images, display names, categories, and keywords
Next, complete the Targeting section to define an audience for your ads—use parameters like location, age, gender, languages, interests and devices to attract your ideal audience
Set up your budget, schedule, and duration for an individual ad or ad group—like at the campaign level, you can set up a daily or total budget; select the scheduled duration for your ads and use the Dayparting feature to decide what times of day you want your ads to run (note: The minimum ad group spend on TikTok is $20 USD)
Finally, set your optimization goals—you can select between Conversion, Click, or Impressions—if you choose Conversion, follow the prompts to define a conversion event (i.e. a form fill or download)
Launch your ad campaign and watch the clicks, impressions, or conversions roll in
TikTok Ad Metrics
To view your results on TikTok Ads, log into the advertisement dashboard. The main dashboard provides an overview of your results, along with daily trends.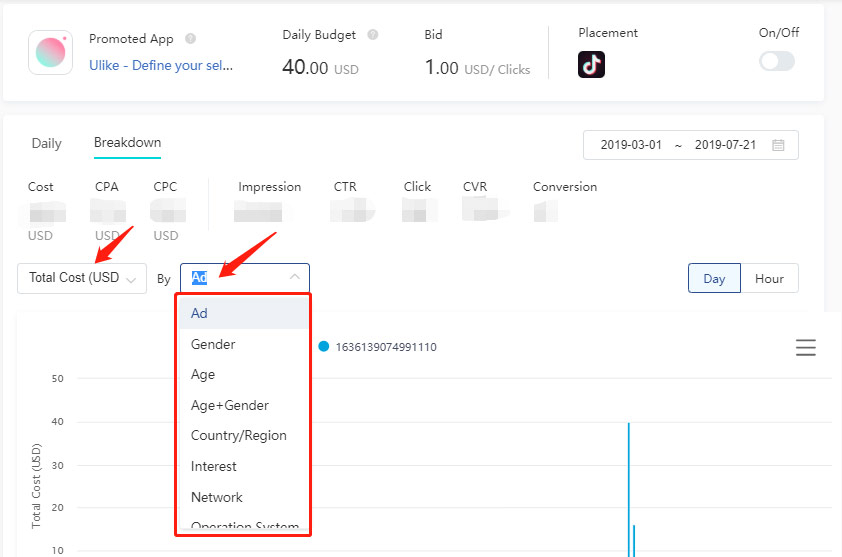 This is useful for understanding trends and measuring the overall success of your ad program over time. In order to look more closely at campaigns, ad groups, and individual ad results, navigate to the Campaigns page.
Using TikTok's data filtering tools, you can generate reports. TikTok allows you to create custom reports based on data dimensions like: Total cost, impressions, clicks, conversions, click rate, conversion rate, CPC, CPM, and conversion cost. These are useful for understanding the success of your ad program and optimizing your spend for future campaigns.
TikTok Live
TikTok Live is an exclusive club. Unlike, say, Instagram who will let any old Joe go live, TikTok's live feature is still in its testing phase, so it's limited to popular creators with 1,000 followers or more.
While we don't know a whole lot about TikTok live (yet), it's still worth keeping in mind.
How to Stream on TikTok Live
Make sure you've updated to the latest version of TikTok
Open the TikTok app and hit Create (plus sign)
If you have the live feature available, it will be beside the red button at the bottom of your screen—if it doesn't show up, your account likely hasn't met the requirements to enable live video
Enter the title of your livestream and tap Go Live
Don't fret if you're not able to access TikTok Live just yet—most TikTok users are in the same boat. Be sure to check out live videos from popular creators so you know what works well. That way you'll be ready when you reach the 1,000-follower threshold or TikTok rolls out the feature to its broader user base.
Fun, accessible, and highly addictive, TikTok provides a world of opportunity for marketers—and an audience that's ready and eager to watch.
Put Your Videos to Work
Create, host, manage, and share your videos.
The post The Complete Beginner's Guide to TikTok for Business appeared first on Vidyard.
Read more: vidyard.com