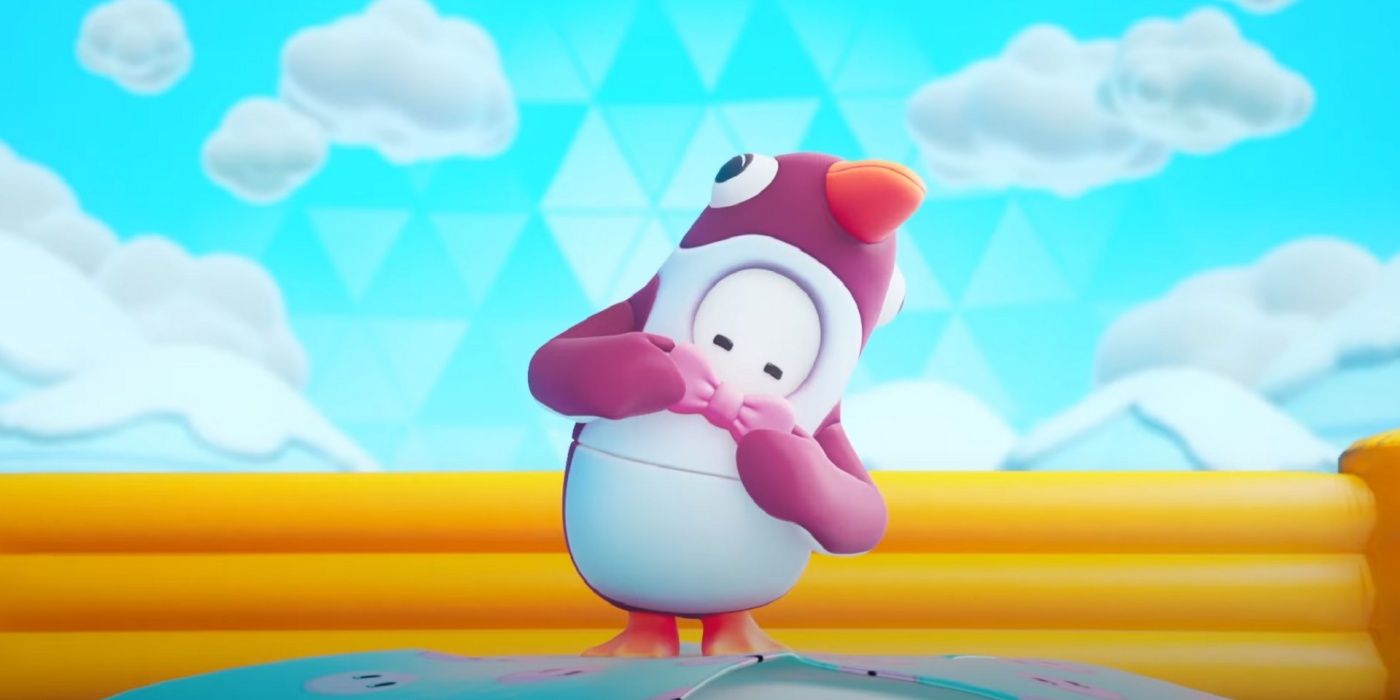 Developer Mediatonic has revealed that Fall Guys' impending Season 3.5 update will introduce fresh content in the form of a brand-new level. The multiplayer title's third season went live in mid-December of last year, but the studio continues to unleash extras here and there. Evidently, even more goodies are on the way.
Super Mario 64's penguin meme represents one of Fall Guys' more recent additions. The meme's Bert, Bort, and Bart characters were added to a few of the experience's levels, allowing players to pick up and drop the little penguins off the side of the map. Other additional bits of content in recent weeks included the arrival of DOOM costumes for Cyberdemon, Cacodemon, and Doom Slayer, which were available to purchase in the in-game shop with in-game currency. And Mediatonic has more surprises up its sleeve, given the latest tease regarding Season 3.5.
Related: How to Earn Gold Skins in Fall Guys Season 3
Earlier today, the Fall Guys Twitter account outlined what fans can expect once Season 3.5 goes live. A brand-new level is in the works, alongside more than 40 variations for existing maps. The post additionally hinted at the advent of a new DLC pack and Fall Feed. Plus, Godzilla, Sonic, and Goose Game costumes are slated to become available in Fall Guys' regular store. In the weeks following the roll out of Season 3.5, Mediatonic plans to gradually unleash extra costumes and shows. A specific launch date for the forthcoming content drop has yet to be revealed.
Fall Guys has become a staple for many gamers, so the eventual arrival of an all-new level is bound to bring plenty of joy to regular players. And it's clear the community's commitment to the online title has yet to wane, though Mediatonic and publisher Devolver Digital released the surprise hit last summer. Helped by its debut as a PlayStation Plus title, Fall Guys quickly garnered meteoric success that hardly shows any signs of slowing to a halt.
The developer's PR and community management have also been exceptional, kickstarting social media campaigns and getting other brands involved in ways that are otherwise rare without a major marketing budget. As this year rolls on, it should be interesting to see how Fall Guys continues to expand in popularity. Considering the hype surrounding Season 3.5, Mediatonic is already off to a great start.
Next: Devolver Digital Teases Fans With 5 Unannounced Games For 2021
Fall Guys is available now on PC via Steam, PlayStation 4, and PlayStation platforms.
Source: Fall Guys
Read more: screenrant.com